A delicious, classic chicken dish — lightly coated chicken breasts braised with Marsala wine and mushrooms. Easy and ideal for both a quick weeknight entree AND serving to company.
"Please let us know what you think if you ever try it at home , and don't forget to share it with your friends and family and also on social networks, this means a lot to us"
Some of the reviews from people who tried this awesome Chicken Marsala Recipe :
Maxwell :
OK, this is the best Marsala recipe we've ever tried. The second time we tried this recipe, I made a huge sandwhich with it. After slightly hollowing out a large loag of Italian bread, I first drizzled olive oil, placed a layer of provalone chesse, then the chicken, a layer of mozarella cheese folowed by the mushrooms, a few slices of red and green pepper, more provalone. Now squish everything down so the bread will close. Wrap the sandwhich in aluminum foil, and heat in a 350 degree oven till the cheese melts. Yummmmmmm!
Carriel :
Not exactly a low fat recipe, but it was incredibly good! Very easy, too! Easy to remember, so you don't have to get out the recipe box every time you want to make it, and I plan on making it ALOT!!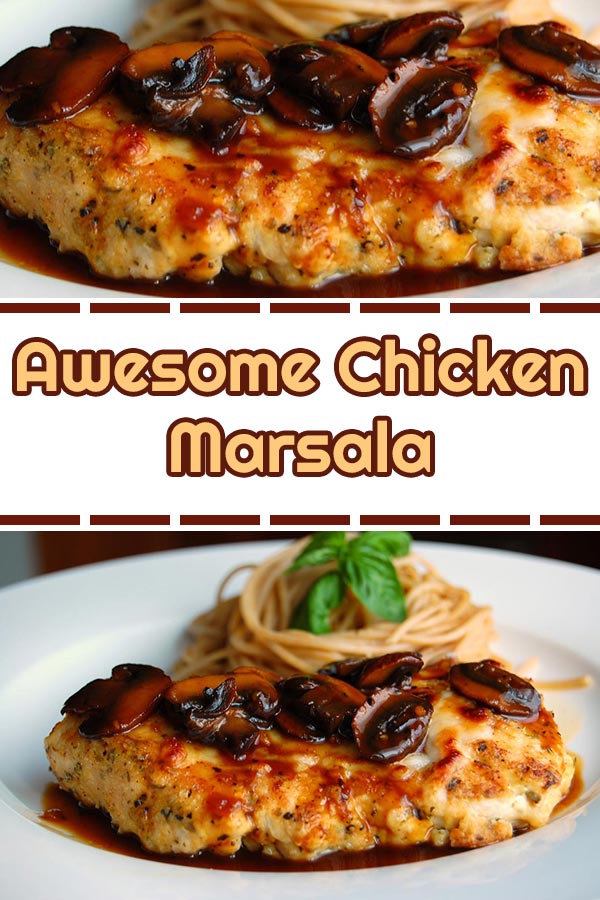 Ingredients :
1/4 cup all-purpose flour for coating
1/2 teaspoon salt
1/4 teaspoon ground black pepper
1/2 teaspoon dried oregano
4 skinless, boneless chicken breast halves – pounded 1/4 inch thick
4 tablespoons butter
4 tablespoons olive oil
1 cup sliced mushrooms
1/2 cup Marsala wine
1/4 cup cooking sherry
Directions :
In a shallow dish or bowl, mix together the flour, salt, pepper and oregano. Coat chicken pieces in flour mixture.
In a large skillet, melt butter in oil over medium heat. Place chicken in the pan, and lightly brown. Turn over chicken pieces, and add mushrooms. Pour in wine and sherry. Cover skillet; simmer chicken 10 minutes, turning once, until no longer pink and juices run clear.
Source :  All Recipes