My husband said this is the best quiche he's ever tried! The combination of caramelized onion, bacon, and Cheddar cheese is perfect.
Ingredients
4 slices bacon
1 (9 inch) unbaked pie crust
1/4 cup butter
1 medium onion, finely chopped
1 egg, beaten
2 eggs
1 1/4 cups sour cream
1/4 cup cream cheese, softened
1/4 teaspoon salt
1/8 teaspoon ground black pepper
1 cup shredded Cheddar cheese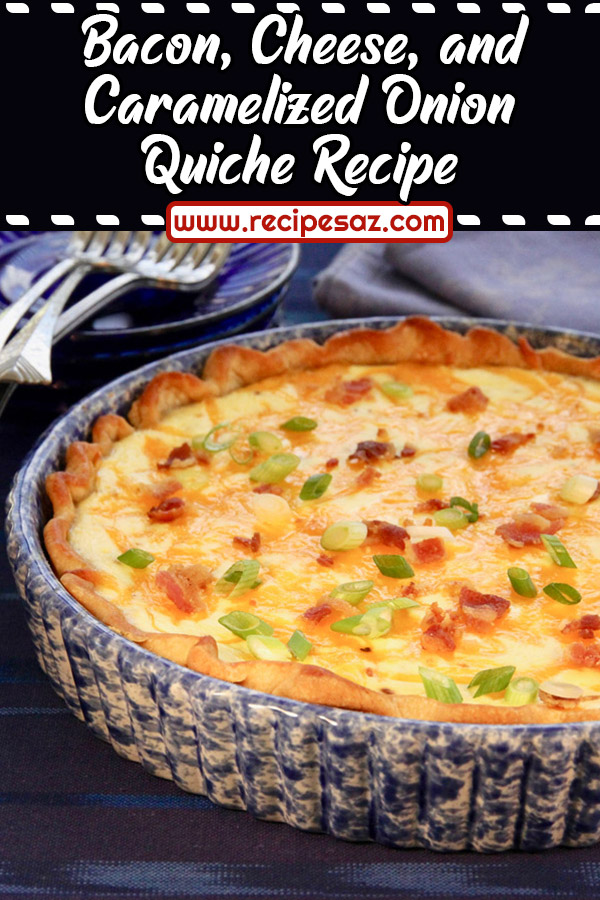 Directions
Preheat the oven to 350 degrees F (175 degrees C).
Fry bacon in a large skillet over medium-high heat, turning occasionally, until crispy, about 10 minutes. Drain bacon slices on paper towels. Let cool 10 minutes. Crumble and set aside.
Roll out pastry crust into a circle using a lightly floured rolling pin. Line a 9-inch pie pan with crust. Prick holes into the base of the dough using a fork.
Bake crust in the preheated oven on the middle rack for 15 minutes.
While crust is baking, heat butter in a pan over medium heat and stir in onion. Cook, stirring periodically, until onion has softened and turned translucent, about 5 minutes. Reduce heat to low and continue cooking and stirring until onion is very tender and golden brown and some butter has reduced, 10 to 15 minutes more.
Remove pastry crust from the oven. Brush crust with beaten egg. Return crust to the oven and bake 5 minutes more.
Whisk 2 eggs together in a bowl using a fork. Add sour cream and cream cheese and beat using an electric mixer until well combined. Beat in salt and pepper.
Spread caramelized onions with remaining butter onto pastry crust. Sprinkle with 1/2 the Cheddar cheese. Place crumbled bacon evenly over the top. Pour egg mixture over bacon. Top with remaining Cheddar cheese.
Bake quiche in the preheated oven until golden and fluffy, about 30 minutes. Let cool 10 minutes before serving.