The sweetness of blackberries, honey, and brown sugar are balanced by the spice of roasted jalapenos in this delicious Blackberry Jalapeno Glazed Ham recipe, perfect for Easter Sunday!
Ingredients
2 fresh jalapeno peppers
12 ounces frozen blackberries
1 cup water
1/2 cup brown sugar
1/4 cup honey

1/4 cup orange juice

1/4 cup orange-flavored liqueur

1 tablespoon minced fresh garlic

2 teaspoons orange zest

1 (12 pound) spiral-sliced, fully-cooked smoked ham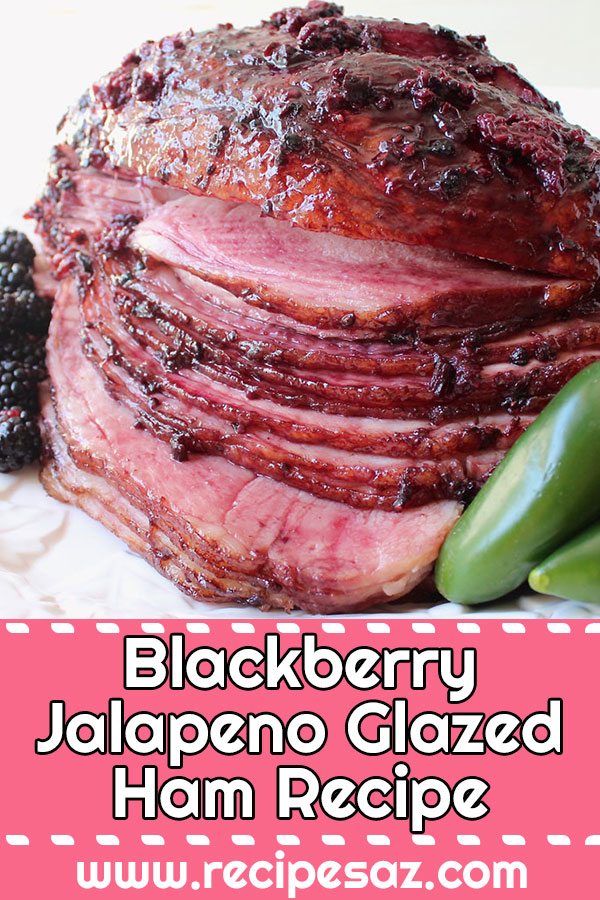 Directions
Set oven rack about 6 inches from the heat source and preheat the oven's broiler to high. Place jalapeno peppers on a baking sheet.
Broil in the preheated oven, turning every 2 to 3 minutes, until skin on the jalapenos is blackened and bubbling, 8 to 10 minutes.
Remove jalapeno peppers from oven and place in a resealable plastic bag; set aside for 5 to 10 minutes. Carefully open the bag and remove jalapeno peppers; let sit until easily handled. Peel blackened skin from jalapeno peppers, slice open, remove the seeds, and mince the pepper.
Combine jalapeno peppers, blackberries, water, brown sugar, honey, orange juice, orange-flavored liqueur, garlic, and orange zest in a saucepan over medium heat; simmer for 5 to 10 minutes. Reduce heat to low and continue simmering until glaze has reduced in size and is thickened, 5 to 10 minutes more. Mash the glaze with a potato masher until blackberries are broken down. Remove saucepan from heat.
Reduce oven temperature to 325 degrees F (165 degrees C). Place the ham in a roasting pan and brush some of the glaze over the ham; cover loosely with aluminum foil.
Bake in the preheated oven, basting with glaze every 20 minutes, until an instant-read thermometer inserted into the center reads at least 145 degrees F (63 degrees C), about 3 hours. Remove ham from oven and brush with more glaze. Let stand for 10 minutes before slicing.