Ingredients :
For the Cake

2 1/2 cups all-purpose flour
1 1/4 tsps baking powder
1 tsp baking soda
1 1/4 tsps cinnamon
1/2 tsp nutmeg
1/8 tsp cloves
1/8 tsp ginger
1/2 tsp salt
4 large eggs at room temperature
1 1/2 cups granulated sugar
1/2 cups packed light brown sugar
1 1/2 cups vegetable oil
1 pound zucchini, grated finely

For Caramel Sauce

4 TBSPs unsalted butter
1 cup packed light brown sugar
1/2 cup heavy cream
1 TBSP vanilla extract

For Frosting

8 oz cream cheese, room temperature
1 1/2 cup powdered sugar
1/3 cup heavy cream, room temperature
1/2 tsp vanilla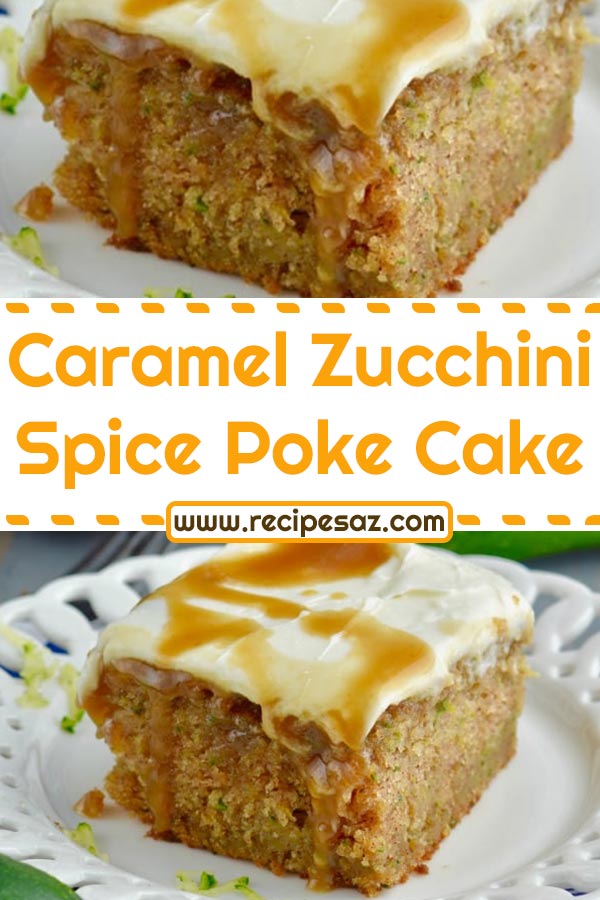 Instructions :
Preheat your oven to 350 degrees. Prepare a 9 by 13 inch pan by spraying it with cooking spray.
Whisk together in a large bowl the flour, baking powder, baking soda, and spices.
Whisk the eggs and sugars together in a large bowl until the sugars are just about dissolved. Now add the oil about a half a cup at a time and whisk in until it's combined.
Slowly add the flour mixture. Stir in the zucchini. Pour into the pan and bake for 40 minutes.
While the cake is baking, combine the butter, brown sugar, and heavy cream in a small sauce pan over medium heat. Stir consistently while the sauce cooks until it thickens, about five minutes. Add in the vanilla. Set aside.
In a large bowl or a stand mixer beat the cream cheese. Beat in the powdered sugar, heavy cream, and vanilla. Continue beating on medium for five minutes. Put the frosting in the refrigerator to frost the cake the following day.
When the cake is finished, remove it from the oven, allow it to sit for about 10 minutes and then poke about 24 holes in it. Fill each of the holes with caramel sauce, you should end up using about 2/3 of a cup. Reserve the rest.
Cover the cake and allow it to sit overnight. The next day, frost it and drizzle with the remainder of the caramel sauce. Serve the cake at room temperature.
Source : Wine & Glue