Baked spaghetti squash is topped with fire-roasted tomatoes, corn, black beans and a heart-healthy version of chorizo made with lean ground turkey instead of pork.
Ingredients
Turkey Chorizo:
1 pound lean ground turkey
3/4 teaspoon salt
1 teaspoon garlic powder
1 1/2 teaspoons chili powder
1 teaspoon smoked paprika
1 teaspoon sweet paprika
1/2 teaspoon ground cumin
1/2 teaspoon ground coriander
1/2 teaspoon dried Mexican oregano
1/2 teaspoon dried chipotle chili pepper
1/4 teaspoon cinnamon
1/8 teaspoon ground cloves
2 tablespoons cider vinegar

Spaghetti Squash:

2 (2 1/2 pound) spaghetti squash, halved and seeded

1 tablespoon olive oil

1/2 cup white onion, finely chopped

1 clove garlic, minced

1/2 teaspoon chili powder

1/2 teaspoon salt

1/4 teaspoon ground cumin

3/4 cup black beans, rinsed and drained

1/2 cup fire-roasted frozen corn

1/4 cup canned mild diced green chilies

1 (14.5 ounce) can Hunt's(R) Fire Roasted Diced Tomatoes, undrained

1 cup shredded queso Chihuahua or Mexican blend cheese

1/4 cup fresh cilantro, chopped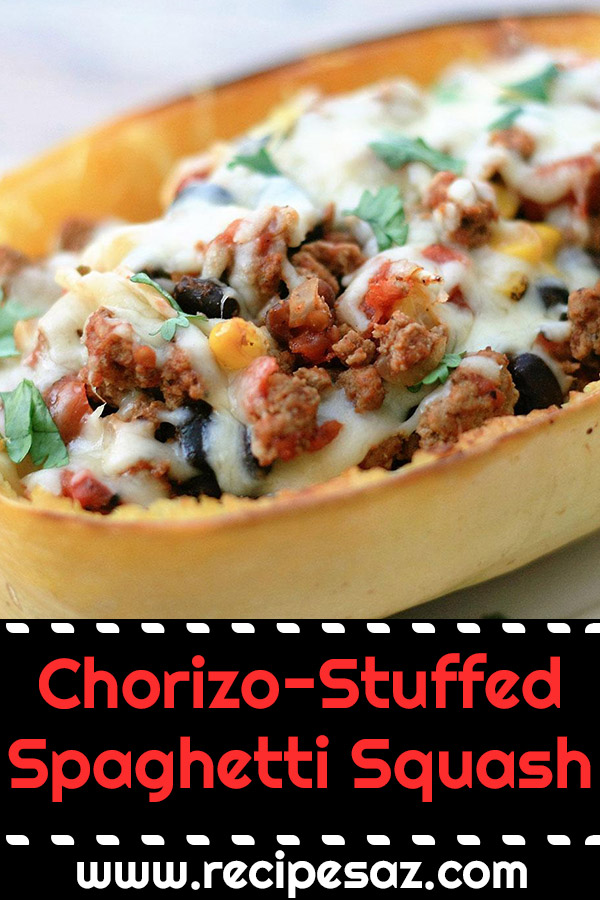 Directions
Combine turkey, salt, garlic powder, chili powder, smoked and sweet paprika, cumin, coriander, oregano, chipotle pepper, cinnamon, cloves, and apple cider vinegar in a mixing bowl. Mix well. Refrigerate for at least 1 hour for flavors to blend.
Preheat oven to 350 degrees F (175 degrees C). Line a large baking sheet with parchment paper.
Cut squash in half lengthwise, scoop out seeds and brush cut sides with olive oil. Place squash cut-side down on prepared baking sheet.
Roast in preheated oven until squash is soft, 40 to 45 minutes. Set aside and keep warm.
Heat a saucepan over medium-high heat. Add chilled chorizo mixture. Cook and stir, breaking up lumps, until cooked through and browned, 8 to 10 minutes. Add onion and cook for an additional 5 minutes, or until onion becomes translucent, stirring constantly. Add garlic and cook an additional 2 to 3 minutes. Stir in chili powder, salt, and cumin.
Stir in beans, corn, diced green chilies, and tomatoes; cover and simmer 4 to 5 minutes.
Fluff spaghetti squash strands with a fork, keeping them in the shells.
Increase oven temperature to 400 degrees F (200 degrees C).
Divide sauce among 4 squash halves. Top each half with 1/4 cup of cheese. Return to baking sheet and bake until cheese is melted 5 to 6 minutes. Garnish with fresh cilantro.