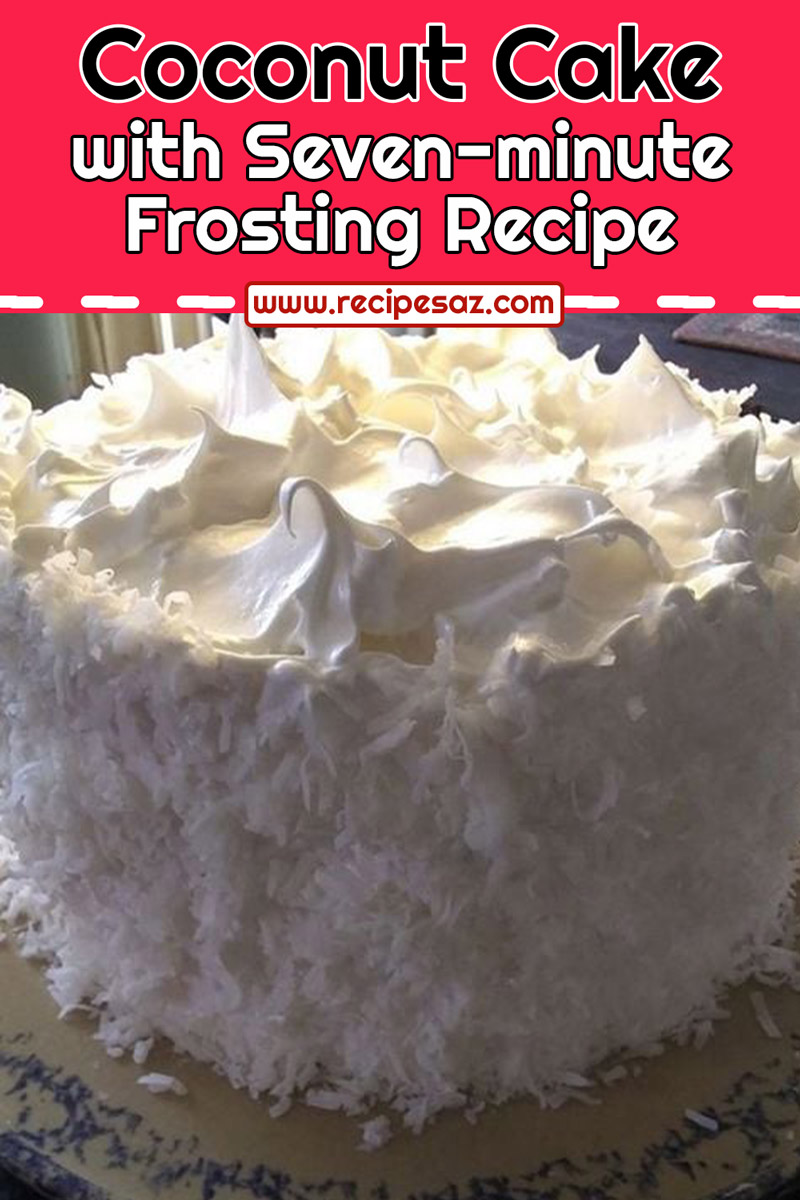 Ingredients :
vegetable shortening and flour for preparing the pans
1 cup unsalted butter two sticks, at room temp
2 cups granulated sugar
5 large eggs
1 teaspoon vanilla extract
1 teaspoon coconut flavoring found near vanilla extract
2.5 cups all purpose flour
1 teaspoon baking soda
1 teaspoon baking powder
1/4 teaspoon salt
1 cup buttermilk
No fail seven minute frosting click here for printable recipe
2 cups shredded sweetened coconut for garnishing cake
Prepare the Frosting :
Ingredients
1 cup sugar
1/4 teaspoon salt
1/2 teaspoon cream of tartar
2 egg whites
3 tablespoons water
1 teaspoon vanilla
Instructions
Combine all ingredients except vanilla in a stainless steel heavy bottomed sauce pan. Place over medium low heat and beat with an electric hand mixer constantly for 5-7 minutes, or until icing is fluffy and stiff peaks form when beaters are removed. Remove from heat and stir in vanilla. Ice cake. It takes two recipes of this to ice a layer cake.
Notes
Note: You'll need two recipes of this icing to ice a layer cake.This recipe doubles beautifully, no need to make two separate batches, just double it and make it all at once.
Instructions :
Preheat oven to 350. Lightly grease and flour two 9 inch round cake pans or one 9×13 cake pan and set aside.
Cream together the butter and sugar in a large bowl with an electric mixer at medium speed until very smooth, at least four minutes. Add eggs, vanilla, and coconut flavoring and beat well to combine. In a separate medium sized bowl, stir together flour, baking soda, baking powder, and salt.
Add flour mixture and the buttermilk to the butter mixture and beat with an electric mixer at medium speed, scraping down the sides as needed, until thoroughly blended and smooth, 2-3 minutes.
Pour batter into the prepared pans. Bake until a toothpick inserted in the center comes out clean, 25-30 minutes for round cakes and 30-35 for a 9×13 cake.
Cool completely and frost with no fail seven minute frosting. Sprinkle with coconut and press coconut into sides immediately after frosting.
Keep covered at room temp for up to two days or in the refrigerator for up to a week.
Click on the Next Page Button to continue reading.