A delicious, and relatively easy, way to make chicken thighs! It's great served over wild rice!
Ingredients
1 tablespoon vegetable oil
4 skin-on, bone-in chicken thighs
1 teaspoon dried thyme
1 teaspoon dried oregano
1/2 teaspoon salt
1/2 teaspoon ground black pepper
8 ounces cremini mushrooms, sliced

1/2 onion, chopped

6 cloves garlic, thinly sliced

1/2 cup dry white wine

1 1/2 cups chicken broth

1/4 cup heavy cream

1 pinch salt and freshly ground black pepper to taste

1 tablespoon chopped fresh parsley, or to taste (optional)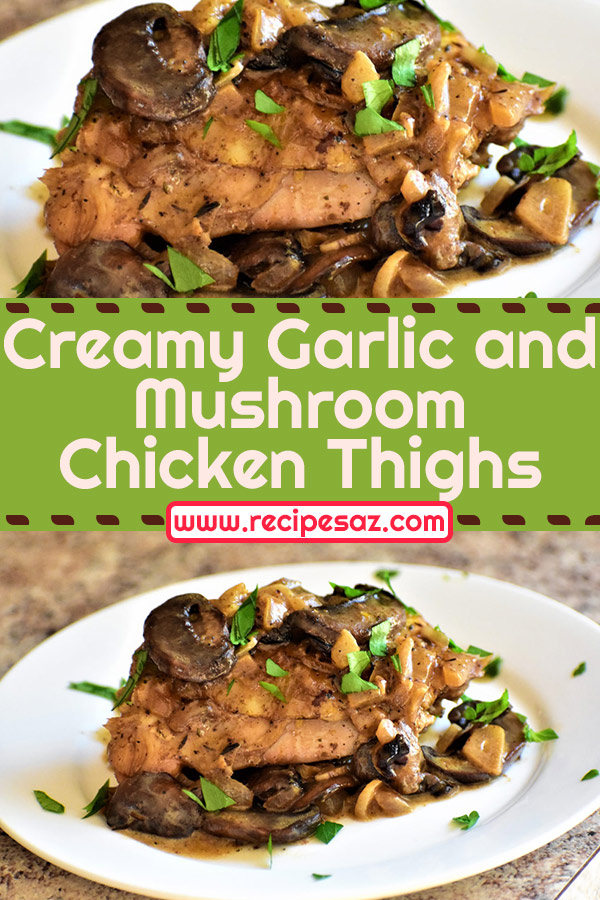 Directions
Heat vegetable oil over medium-heat in a large skillet. Season chicken thighs on both sides with thyme, oregano, salt, and pepper. Place thighs, skin-side down, into the hot skillet and cook until browned, about 8 minutes. Flip thighs over and brown other side, an additional 8 minutes. Remove thighs from skillet onto a large plate, and set aside. Reduce heat to medium-low.
Add mushrooms to skillet and cook until softened, 3 to 5 minutes. Stir in onion and garlic; cook, stirring frequently, for an additional 2 to 3 minutes. Pour in white wine and scrape browned bits off the bottom of the skillet. Simmer until wine is reduced by half, about 2 minutes. Stir in chicken broth and allow mixture to come back to a simmer.
Return chicken thighs to the skillet, and cook, covered, until chicken is no longer pink at the bone and the juices run clear, about 15 minutes. An instant-read thermometer inserted near the bone should read 165 degrees F (74 degrees C). Stir in heavy cream and cook until just heated through, about 1 more minute. Adjust salt and pepper and sprinkle with fresh parsley just before serving.