This dish is perfect to take on a picnic or to a potluck! All I can say about this dish is yum, yum. It is one of my all-time favorites!
Fritter Ingredients:
1 large zucchini (or 2 small ones)
1 clove garlic peeled and minced
1/4 cup fresh basil we grow our own, but you can find it at any grocery store
1/4 cup fresh oregano ditto
1 tbsp lemon zest
2 organic eggs or Flax Egg
1/4 cup gluten-free flour
1/4 tsp onion powder
to taste salt
to taste pepper
Dip Ingredients
1/2 cup finely chopped fresh dill
Avocado Dip Base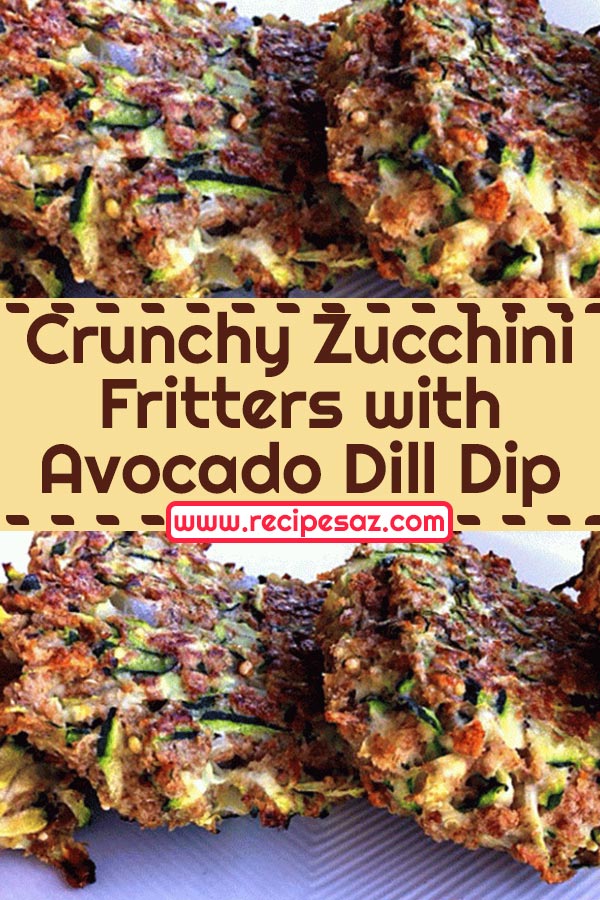 Instructions
Using the large holes of a box grater, grate zucchini. Place zucchini in a colander set in the sink and toss with 1/2 teaspoons salt. Let stand 10 minutes, and then wring zucchini dry in a clean kitchen towel to remove moisture. Place zucchini in a large bowl and gently mix in egg, garlic, basil, oregano, lemon zest, onion powder, salt, and pepper. Mix well to combine. Slowly add flour, stirring so no lumps form.
Heat 2 tablespoons coconut oil or olive oil in a large sauté pan over medium-high heat until the oil sizzles when you drop a small amount of zucchini mixture into the pan. Carefully drop about 2 tablespoons zucchini mixture into pan; repeat, spacing fritters a few inches apart.
Cook fritters until golden, 2 to 3 minutes. Lower heat to medium. Turn fritters, and continue cooking until golden, 2 to 3 minutes more. Transfer fritters to a plate; set aside in a warm place. Cook remaining zucchini mixture, adding more oil to the pan if necessary.
Recipe Notes
If you want more veggies try adding a ½ cup of finely chopped kale or spinach!