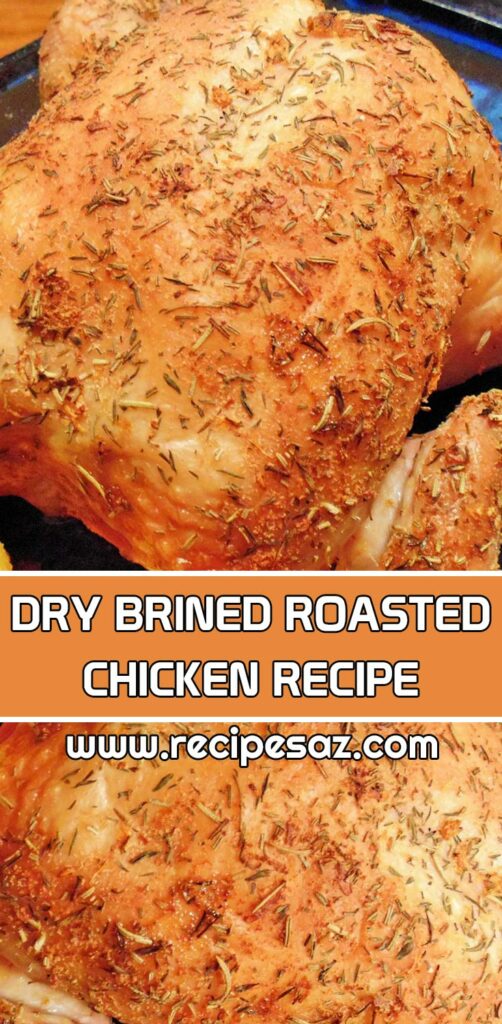 Ingredients :
1 whole chicken
2 tablespoons salt, or as needed
2 teaspoons grated orange zest
1 teaspoon dried rosemary
1 teaspoon dried thyme
Directions :
Remove chicken from packaging, remove giblet packet from cavity, and pat thoroughly dry with paper towels. Place in a 9×13-inch baking dish.
Mix salt, orange zest, rosemary, and thyme together in a small bowl; rub 3/4 of the mixture all over outside of chicken; rub remaining mixture inside cavity. Cover loosely with plastic wrap and refrigerate 1 to 3 days.
Preheat oven to 350 degrees F (175 degrees C). Remove plastic wrap from chicken.
Bake chicken in preheated oven until no longer pink at the bone and the juices run clear, 2 to 2 1/2 hours depending on size. An instant-read thermometer inserted into the thickest part of the thigh near the bone should read 165 degrees F (74 degrees C). Remove chicken from the oven, cover with a doubled sheet of aluminum foil, and allow to rest in a warm area for 20 minutes before carving.
Cook's Notes and Tips:
A good rule for the salt mixture is 1 tablespoon per 5 pounds.
I prefer fresh herbs if I have them on hand, but either work fine.
Click on the Next Page Button to continue reading.
Don't forget to join our Facebook Group where we share Yummy recipes everyday