Zesty porcupine meatballs with bell peppers have from-scratch flavor with shortcuts! Serve over pasta, next to pasta with a simple sauce (I like just olive oil, basil, garlic, and a dash of salt), or with some nice crusty bread.
Ingredients
2 pounds lean ground beef
2/3 cup uncooked white rice
1/2 cup milk
1 beaten egg
2 cloves garlic, minced
1 teaspoon dried basil
1 teaspoon salt
1 tablespoon olive oil
1 (14 ounce) jar spaghetti sauce
1 (14.5 ounce) can diced tomatoes
1 1/2 cups beef broth
1/2 cup red wine
1 teaspoon dried basil
1/2 teaspoon ground cayenne pepper
2 bay leaves
3 cloves garlic, minced
1 (16 ounce) package frozen pepper and onion stir fry vegetable blend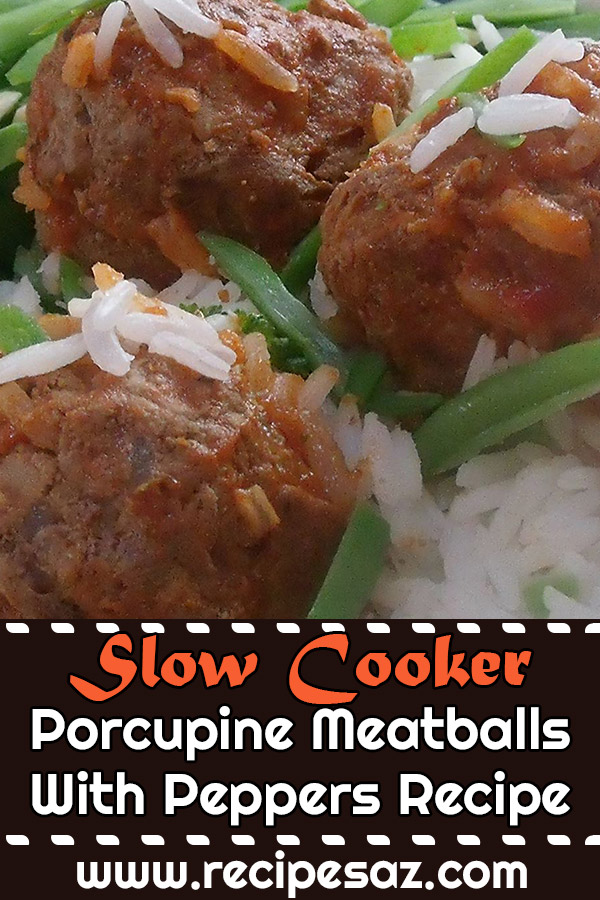 Directions
Thoroughly combine ground beef, rice, milk, egg, garlic, basil, and salt in a bowl. Form the mixture into about 16 1-1/2 inch meatballs.
Heat olive oil in a skillet over medium heat, and brown the meatballs well on all sides, about 15 minutes.
Place the spaghetti sauce, diced tomatoes, beef broth, red wine, basil, cayenne pepper, bay leaves, and 3 minced garlic cloves in slow cooker, and stir to combine. Put the meatballs into the slow cooker, and stir gently to cover with sauce. Shake the frozen vegetables over the sauce, without stirring, and cook on Low, covered, for 6 to 8 hours, until the meatballs are tender and the vegetables are cooked.
About an hour before serving, gently stir the sauce, being careful not to break the meatballs, and remove the bay leaves. Cook for 1 more hour to blend the flavors and thicken the sauce.