An easy recipe that's delicious too!
Ingredients
1 (9 inch) frozen pie crusts, thawed
1 tablespoon olive oil
1/4 cup chopped onion
1/4 cup chopped green bell pepper
1 tablespoon all-purpose flour
1 cup chopped cooked chicken breast
1/4 teaspoon salt
1/4 teaspoon nutmeg
1/4 teaspoon black pepper
1/2 cup shredded Cheddar cheese
1/4 cup shredded Swiss cheese
2 eggs, slightly beaten
3/4 cup milk
3/4 cup sour cream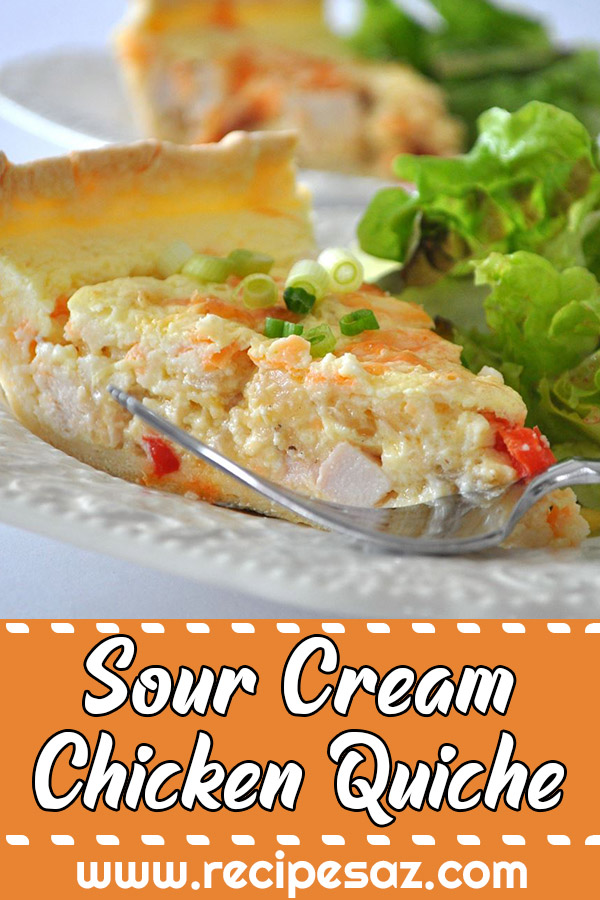 Directions
Preheat oven to 400 degrees F (200 degrees C). Line a 9 inch pie plate with thawed pie crust. Keep in refrigerator until ready to fill.
In medium frying pan, heat olive oil on medium-high. Add onion and green pepper. Cook three minutes, stirring frequently. Add flour and cook for two minutes, stirring frequently. Stir in chicken, salt, nutmeg and pepper. Spread this mixture over bottom of unbaked pie shell and top with Cheddar and Swiss cheese.
Combine eggs, milk and sour cream, mix until smooth. Pour over chicken mixture.
Bake in preheated oven for 20 minutes. Reduce temperature to 350 degrees F (175 degrees C) and bake 30 to 35 minutes until inserted knife comes out clean.