A spatchcock chicken sits atop a simple broth with carrots, onion, and lemon, creating a delicious gravy while roasting.
Ingredients
1 (5 pound) whole chicken
salt to taste
3 tablespoons olive oil
1 small onion, thickly sliced
1 cup light beer
1 1/2 cups chicken broth, or more as needed
6 carrots, cut into long pieces
1 lemon, sliced
2 teaspoons dried rosemary
1 teaspoon dried thyme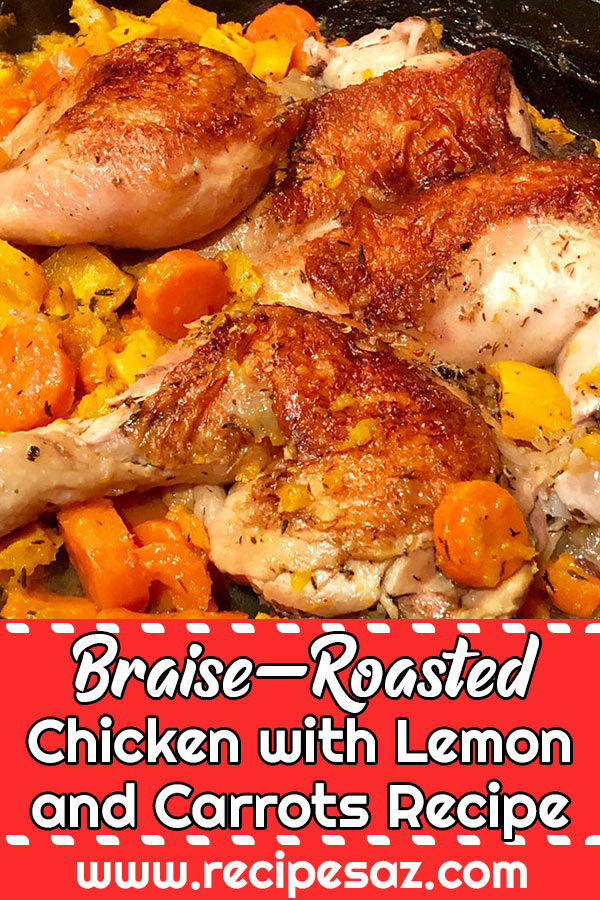 Directions
Preheat oven to 425 degrees F (220 degrees C).
Pat chicken dry with paper towels. Cut backbone from chicken using kitchen shears and save backbone for another use. Flip chicken, breast-side up, and forcefully press chicken down to flatten; season generously with salt.
Heat olive oil in a large oven-safe cast iron skillet over medium-high heat; pan-fry chicken, skin-side down, until golden, 6 to 7 minutes. Transfer chicken to a plate, skin-side up.
Cook and stir onion in oil in the same skillet until softened, 2 to 3 minutes. Add beer, scraping up any browned bits from the bottom of the skillet. Continue cooking until most of the beer is reduced, 2 to 4 minutes more. Stir chicken broth, carrots, lemon, rosemary, and thyme into beer mixture. Arrange chicken, skin-side up, over vegetables.
Roast in the preheated oven until chicken is golden brown and crispy, about 50 minutes. An instant-read thermometer inserted into the thickest part of the thigh, near the bone should read 165 degrees F (74 degrees C). Transfer chicken and vegetables to a large platter and let rest, uncovered.
Bring remaining broth and juices in the skillet to a boil and cook until sauce is thickened, about 10 minutes. Season sauce with salt.
Slice chicken and serve with sauce.