A delicious twist on a Southern favorite! Serve cold.
Ingredients
2 tablespoons butter
1 1/2 cups pecan pieces
Cake:
2 cups white sugar
1 cup butter
4 eggs
2 teaspoons vanilla extract
1 teaspoon butter extract
3 cups all-purpose flour
2 teaspoons baking powder

1/2 teaspoon salt

1 cup milk

Frosting:

6 1/2 cups confectioners' sugar

11 ounces cream cheese, softened

2/3 cup butter, softened

1 1/2 teaspoons vanilla extract

1/2 teaspoon almond extract

1 tablespoon milk, or more as needed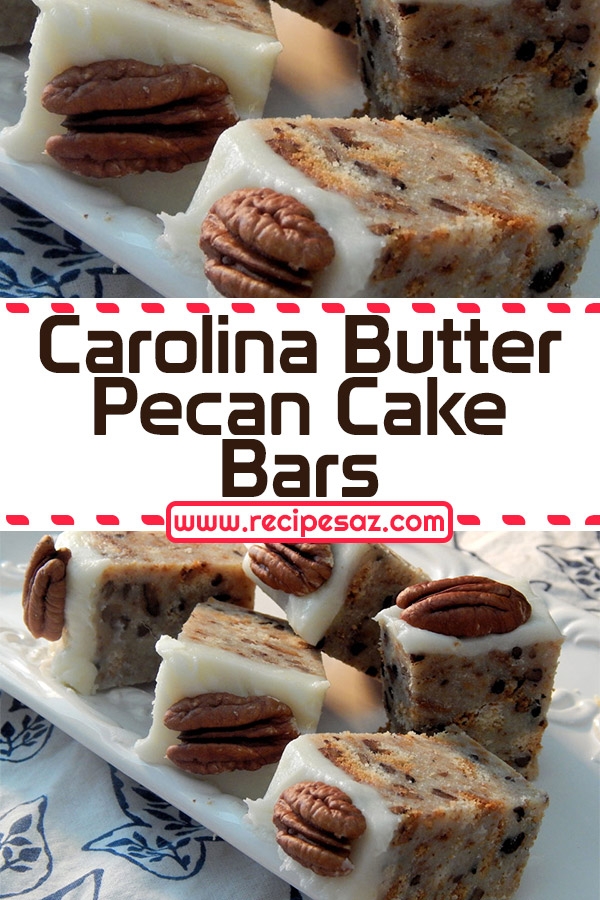 Directions
Preheat oven to 350 degrees F (175 degrees C). Grease a 9×13-inch baking pan.
Melt 2 tablespoons butter in a small, heavy skillet over medium heat. Add pecans and cook until toasted, about 4 minutes. Remove from heat and let cool.
Combine white sugar and 1 cup butter in a large bowl; beat with an electric mixer until light and fluffy. Add eggs, one at a time, beating well after each addition. Beat in 2 teaspoons vanilla extract and butter extract.
Combine flour, baking powder, and salt in a bowl. Add to creamed butter mixture alternately with milk, beating just until combined. Fold in pecans. Pour batter into the prepared pan.
Bake in the preheated oven until a toothpick inserted near the center comes out clean, 25 to 30 minutes.
Beat confectioners' sugar, cream cheese, 2/3 cup butter, 1 1/2 teaspoons vanilla extract, and almond extract in a large bowl until smooth. Beat in enough milk to give frosting a spreadable consistency.
Divide hot cake in half and chop 1 half into a large bowl. Stir in 1/4 of the frosting. Repeat with remaining half, stirring in an additional 1/4 of the frosting. Spread mixture back into the baking pan; press flat with your fingers. Spread remaining frosting over the pressed cake mixture.
Refrigerate until firm, 3 to 4 hours. Cut into bars.