I dreamt up this recipe on my way home from work one night to use the ingredients I had on hand. It's a great comfort food for chilly winter evenings!
Ingredients
1 cup dry fusilli pasta
3 tablespoons olive oil
6 chicken tenderloins, cut into chunks
1 tablespoon dried minced onion
salt and pepper to taste
garlic powder to taste
1 tablespoon dried basil

1 tablespoon dried parsley

1 (10.75 ounce) can condensed cream of chicken soup

1 (10.75 ounce) can condensed cream of mushroom soup

2 cups frozen mixed vegetables

1 cup dry bread crumbs

2 tablespoons grated Parmesan cheese

2 tablespoons butter, melted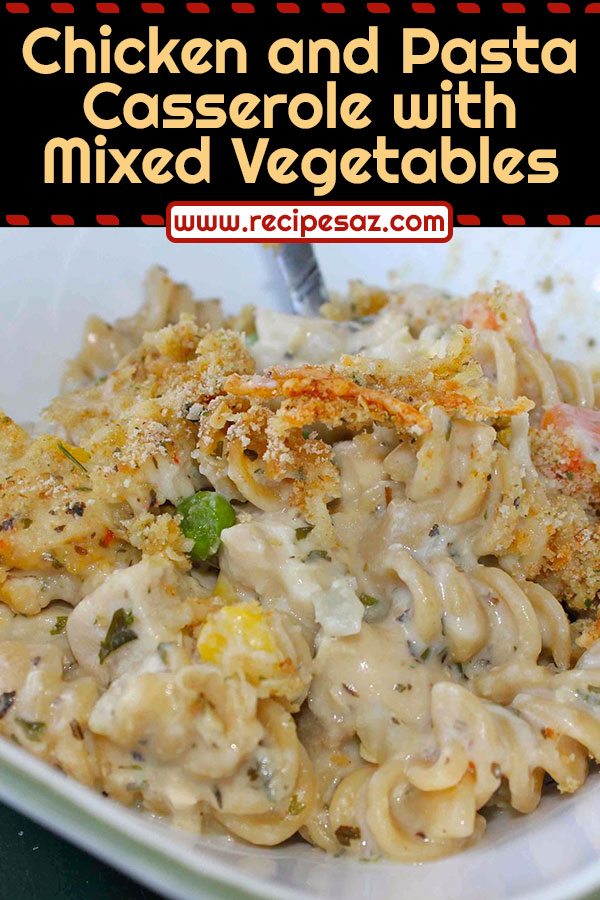 Directions
Preheat oven to 400 degrees F (200 degrees C). Lightly grease a medium baking dish.
Bring a large pot of lightly salted water to a boil. Place fusilli pasta in the pot, cook for 8 to 10 minutes, until al dente, and drain.
Heat the oil in a skillet over medium heat. Place chicken in the skillet, and season with minced onion, salt and pepper, garlic powder, basil, and parsley. Cook until chicken juices run clear. Mix in the cooked pasta, cream of chicken soup, cream of mushroom soup, and mixed vegetables. Transfer to the prepared baking dish.
In a small bowl, mix the bread crumbs, Parmesan cheese, and butter. Spread evenly over the casserole.
Bake 30 minutes in the preheated oven until bubbly and lightly browned.