quick, and delicious. Here, a butternut squash pasta with smoked sausage that will soon become a go-to comfort dish.
Ingredients
8 ounces uncooked rigatoni pasta
8 ounces Hillshire Farm(R) Rope Smoked Sausage, cut into bias-cut pieces
4 cups chopped butternut squash
1 tablespoon olive oil
6 tablespoons unsalted butter, divided

1/4 cup fresh sage leaves, chopped

3 tablespoons fresh lemon juice

1 cup grated Parmesan cheese

1/2 teaspoon kosher salt

1/2 teaspoon black pepper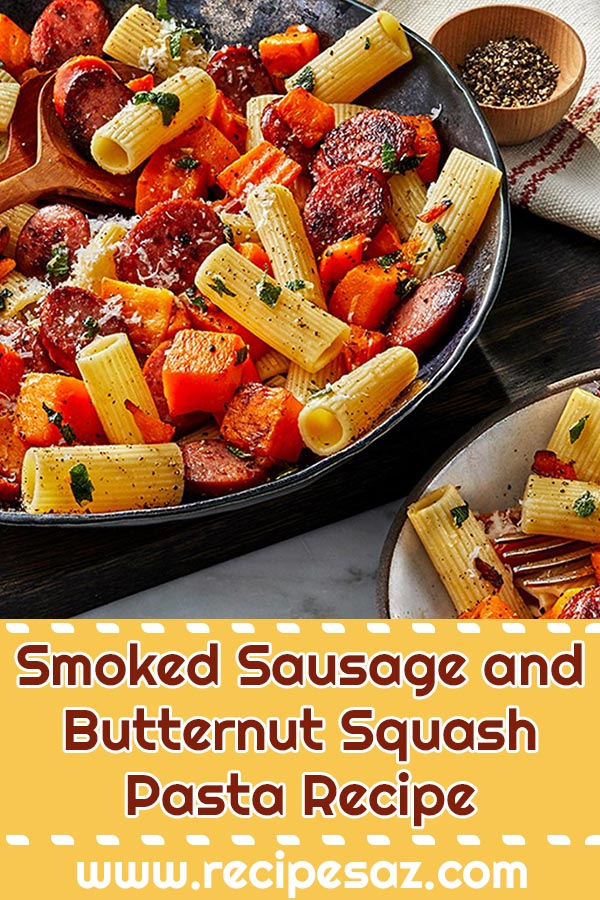 Directions
Cook pasta according to package directions; drain.
Preheat oven to 450 degrees F. Place sausage and squash on a large baking pan. Drizzle with oil; toss to coat.
Roast in preheated oven for 12 minutes. Toss with 3 tablespoons cubed butter and sage; return to oven for 12-14 minutes, until squash is caramelized and tender.
Melt remaining butter in a large skillet over medium heat. Toss in pasta, sausage mixture, lemon juice, 3/4 cup of the cheese, salt, and pepper. Serve in shallow bowls topped with remaining 1/4 cup cheese.