These cheesy chicken sandwich melts have all of the flavor of fajitas without the drippy mess!
Ingredients
3 tablespoons vegetable oil
6 (6 ounce) skinless, boneless chicken breast halves, thinly sliced
1/2 cup sliced onions
1/2 cup sliced red bell pepper
1/2 cup tomato juice

2 tablespoons taco seasoning mix

1 cup salsa

8 (1/2 inch thick) slices French bread

2 cups shredded Cheddar cheese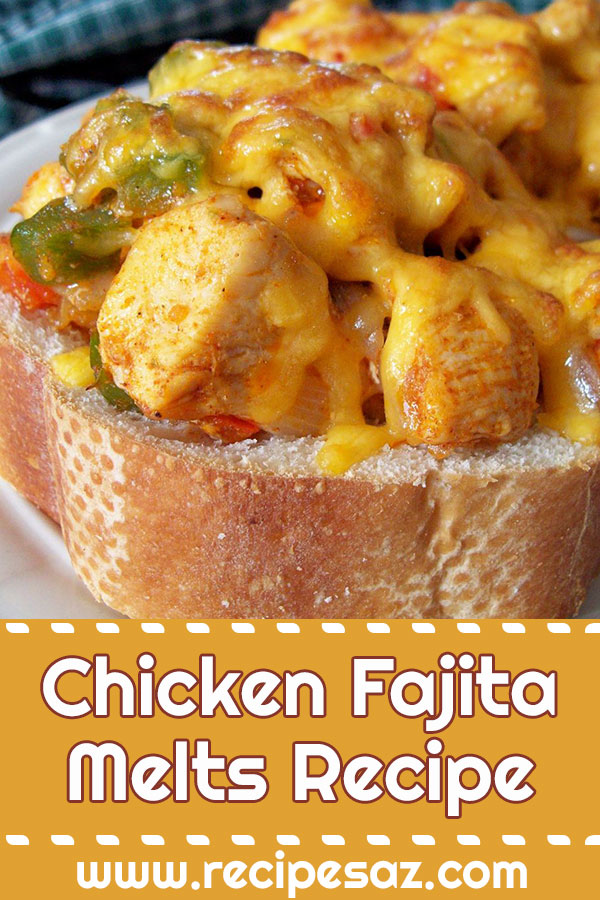 Directions
Heat the oil in a large skillet over medium-high heat. Add the chicken, and cook and stir until lightly browned, about 5 minutes.
Stir in the sliced onions and red peppers, and cook and stir for 5 minutes or until the vegetables are tender. Stir in the tomato juice and taco seasoning, and mix well. Cook mixture until the juice has thickened and the chicken is well coated with sauce, about an additional 7 minutes.
Preheat the oven's broiler and set the oven rack about 6 inches from the heat source.
Spread 2 tablespoons of salsa over each slice of French bread. Evenly spoon the chicken mixture on top of the salsa topped bread. Sprinkle each sandwich with 1/4 cup Cheddar cheese.
Place sandwiches under the preheated broiler and cook for 5 minutes or until the cheese is melted and beginning to brown.