Seriously, I'm a cupcake aficionado and these cupcakes are amazing! I saw them on a bakery menu and decided to replicate them.
Ingredients
1 1/2 cups all-purpose flour
1/4 teaspoon baking soda
1/4 teaspoon sea salt
1/2 cup butter, softened
1/4 cup white sugar
1/2 cup brown sugar
1 egg
2 teaspoons vanilla extract
1 cup miniature semisweet chocolate chips
1 (18.25 ounce) box yellow cake mix
1 1/3 cups water
1/3 cup canola oil
3 eggs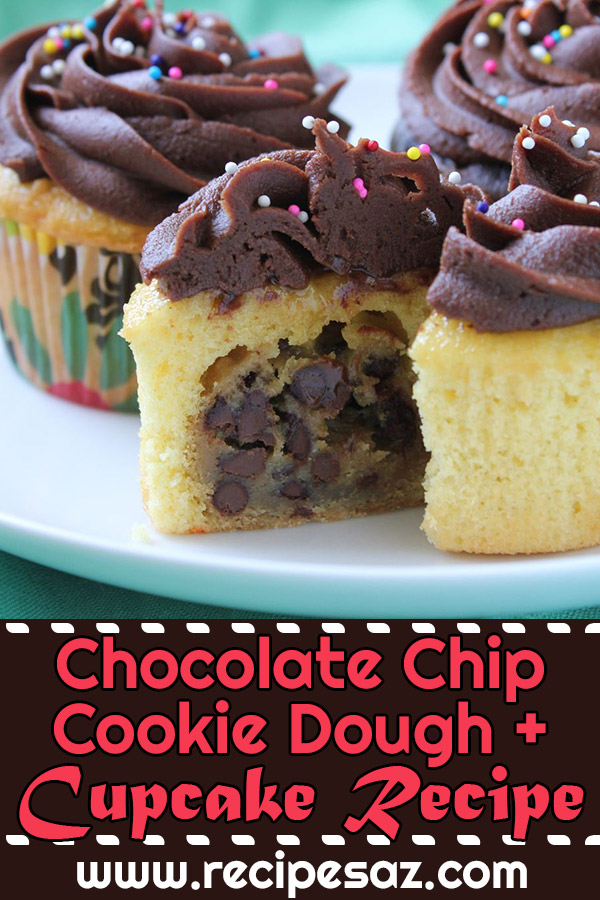 Directions
Whisk together the flour, baking soda, and sea salt; set aside. Beat the butter, white sugar, and brown sugar with an electric mixer in a large bowl until smooth. Add 1 egg and the vanilla extract and beat until smooth. Mix in the flour mixture until just incorporated. Fold in the chocolate chips; mixing just enough to evenly combine. Form the dough into tablespoon-sized balls; place onto a baking sheet, and freeze until solid, about 2 hours.
Preheat an oven to 350 degrees F (175 degrees C). Line 24 muffin cups with paper liners.
Beat 3 eggs in a large bowl with an electric mixer to break up. Add the cake mix, water, and canola oil; continue beating for 2 minutes on medium speed. Spoon into the prepared cupcake liners, filling each 2/3 full. Place a frozen cookie dough ball on the top center of each cupcake.
Bake in the preheated oven until a toothpick inserted into the cake portion of the cupcake (not the cookie dough ball) comes clean, about 20 minutes. Cool in the pans for 10 minutes before removing to cool completely on a wire rack.