This is an incredibly easy rich and satisfying ice cream dessert made with ice cream sandwiches and fudge sauce. This keeps in the freezer very well and can be eaten straight from the freezer.
"Please let us know what you think if you ever try it at home , and don't forget to share it with your friends and family and also on social networks, this means a lot to us"
These are some of the reviews from people who tried the Hot Fudge Ice Cream Bar Dessert Recipe :
Ewa :
This is a new family favorite. It was very easy to make and tasted delicious. It flew out of the pan. Thanks for this great recipe. mmm…
Karen :
Very good. Extremely easy. It reminds me of the peanut buster parait or the buster bar at Dairy Queen. My pan was a little bigger than the one in the recipe and took 24 ice cream sandwiches. It looks very nice on the plate. Will definitely make this again.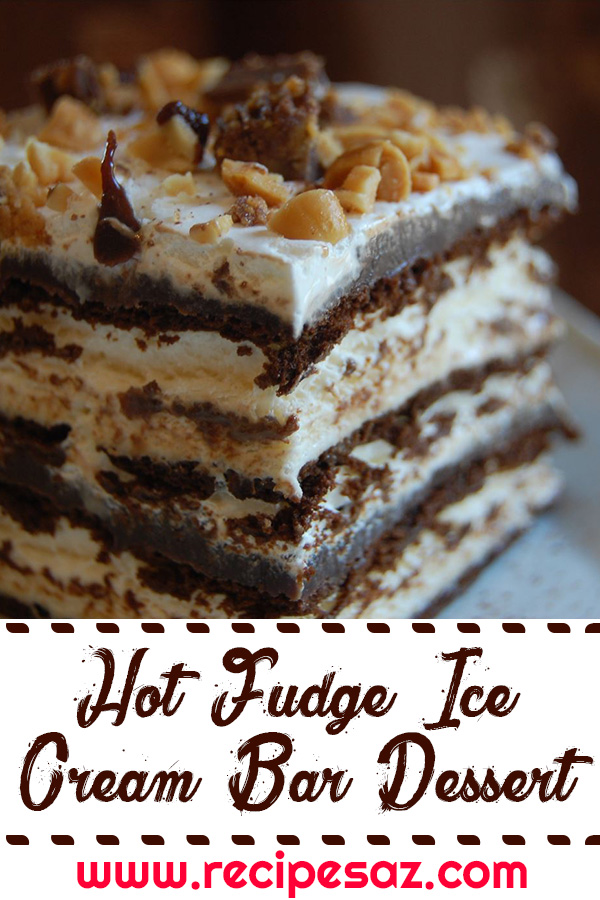 Ingredients
1 (16 ounce) can chocolate syrup
3/4 cup peanut butter
19 ice cream sandwiches
1 (12 ounce) container frozen whipped topping, thawed
1 cup salted peanuts
Directions
Pour the chocolate syrup into a medium microwave-safe bowl and microwave until hot, about 2 minutes on high, stopping every 30 seconds. Do not allow to boil. Stir peanut butter into hot chocolate until smooth. Allow to cool to room temperature.
Line the bottom of a 9×13-inch dish with a layer of ice cream sandwiches. Spread half the whipped topping over the sandwiches. Spoon half the chocolate mixture over that. Top with half the peanuts. Repeat layers. Freeze until firm, at least 1 hour. Cut into squares to serve.
Source : All recipes