This soup embodies all the wonders of Italian cooking: Italian sausage, garlic, tomatoes and red wines. Serve with hot bread and salad for a delicious meal. Garnish with Parmesan cheese.
"Please let us know what you think if you ever try it at home , and don't forget to share it with your friends and family and also on social networks, this means a lot to us"
These are some of the reviews from people who tried the Italian Sausage Soup with Tortellini Recipe :
Josie :
Divine! Sublime!! LOVED this soup!!! No changes needed though perhaps a suggestion? Use 6 cups of beef broth versus 5 and add only as much tortellini as you plan on eating at each serving. The soup literally sopes up the broth, so if you have leftovers (which are even BETTER the next day) you have no broth as the tortellini has absorbed it! Thanks  – my hat's off to you!!!!
Grace :
I just made this soup and it is one of the BEST soups I think I have ever made. You have to try it.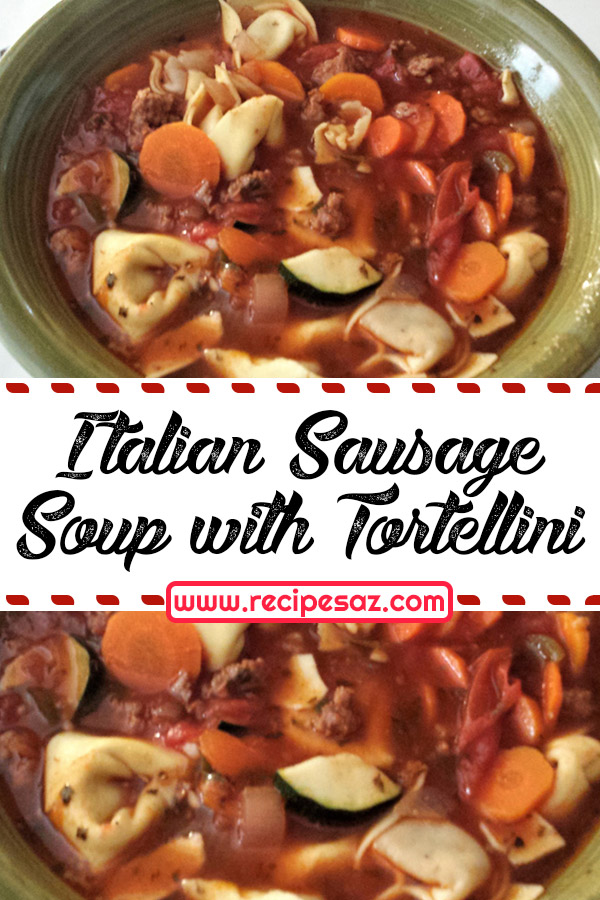 Ingredients
1 pound sweet Italian sausage, casings removed
1 cup chopped onion
2 cloves garlic, minced
5 cups beef broth
1/2 cup water
1/2 cup red wine
4 large tomatoes – peeled, seeded and chopped
1 cup thinly sliced carrots
1/2 tablespoon packed fresh basil leaves
1/2 teaspoon dried oregano
1 (8 ounce) can tomato sauce
1 1/2 cups sliced zucchini
8 ounces fresh tortellini pasta
3 tablespoons chopped fresh parsley
Directions
In a 5 quart Dutch oven, brown sausage. Remove sausage and drain, reserving 1 tablespoon of the drippings.
Saute onions and garlic in drippings. Stir in beef broth, water, wine, tomatoes, carrots, basil, oregano, tomato sauce, and sausage. Bring to a boil. Reduce heat; simmer uncovered for 30 minutes.
Skim fat from the soup. Stir in zucchini and parsley. Simmer covered for 30 minutes. Add tortellini during the last 10 minutes. Sprinkle with Parmesan cheese on top of each serving.
Source : All Recipes