I made this chicken for 100 people at my in-laws' 50th wedding anniversary party. Boy, was it a hit!
"Please let us know what you think if you ever try it at home , and don't forget to share it with your friends and family and also on social networks, this means a lot to us"
These are some of the reviews from people who tried the Anniversary Chicken Recipe :
Rebecca :
This is fantastic! My husband and son raved about it and couldn't wait for leftovers. Delicious flavors and wonderfully moist. For those of you who weren't that impressed, use teriyaki baste & glaze (not just a sauce or marinade) — it's thicker and adds much more flavor than a marinade. No need to marinade over night or hours before if you use this. I used Kikoman baste & glaze and Hidden Valley ranch lite, with real bacon(low salt) crumbled. I didn't fry the chicken – I just spooned on the baste & glaze to both sides of the chicken & then spooned on the ranch, with everything else following. Great with an angel hair pasta with sauteed garlic, tomatoes, onions, and spices.
Jennifer :
This recipe was delicious! Very easy to make too! I'll definitely make this one again.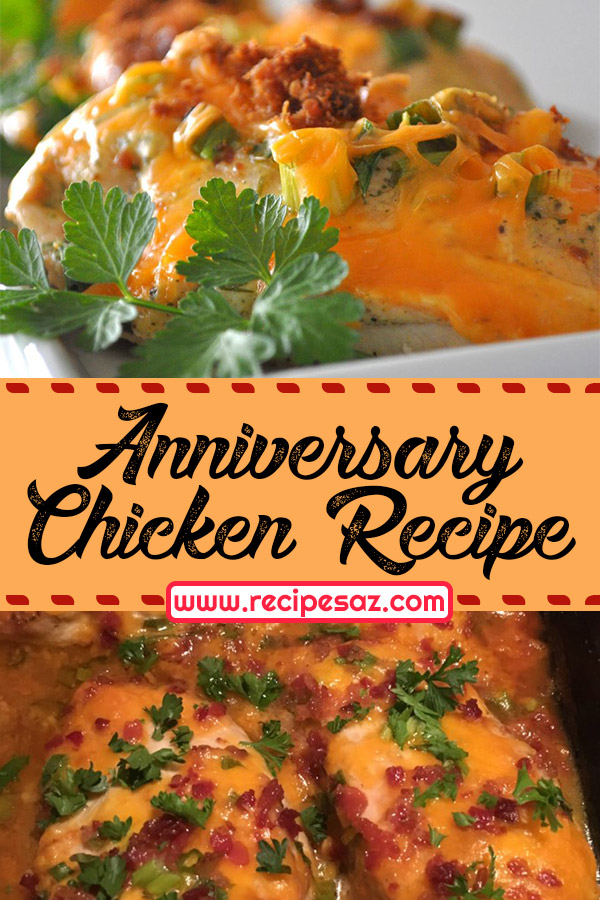 Ingredients
2 tablespoons vegetable oil
6 skinless, boneless chicken breast halves
1/2 cup teriyaki basting sauce
1/2 cup Ranch-style salad dressing
1 cup shredded Cheddar cheese
3 green onions, chopped
1/2 (3 ounce) can bacon bits
1 tablespoon chopped fresh parsley, for garnish
Directions
Preheat oven to 350 degrees F (175 degrees C).
In a large skillet, heat oil over medium-high heat. Add chicken breasts, and saute 4 to 5 minutes each side, until lightly browned.
Place browned chicken breasts in a 9×13 inch baking dish. Brush with teriyaki sauce, then spoon on salad dressing. Sprinkle with cheese, green onions and bacon bits.
Bake for 25 to 35 minutes, or until chicken is no longer pink and juices run clear. Garnish with parsley and serve.
Source : All Recipes