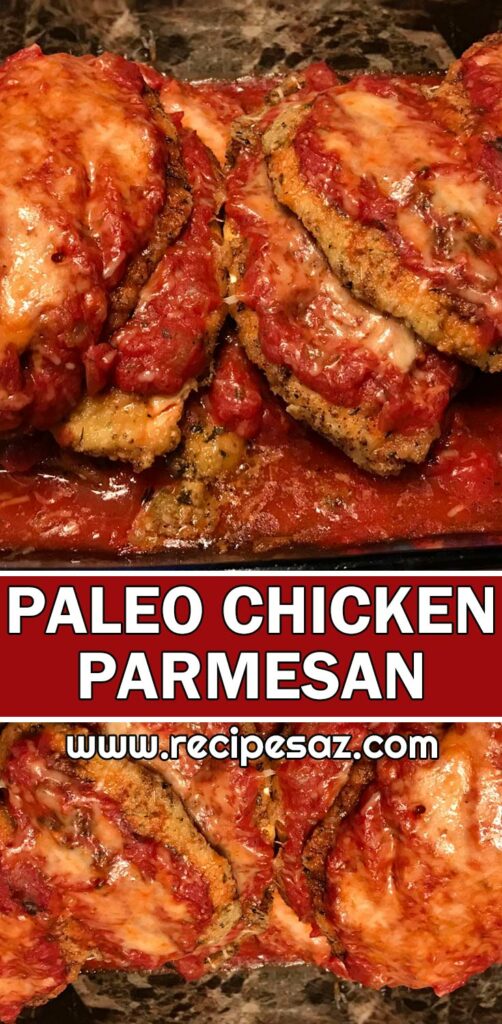 Ingredients :
1 tablespoon olive oil, or to taste
½ yellow onion, chopped
2 cloves garlic, minced
1 (28 ounce) can crushed San Marzano tomatoes
¼ cup water
1 (6 ounce) can tomato paste
1 teaspoon dried basil
1 teaspoon dried oregano
1 teaspoon dried parsley
1 teaspoon sea salt
½ teaspoon ground black pepper
½ teaspoon red pepper flakes (optional)
Chicken Parmesan:
4 skinless, boneless chicken breast cutlets
1 teaspoon sea salt, or more to taste
1 teaspoon ground black pepper, or to taste
¾ cup almond meal
¼ cup tapioca flour
2 teaspoons dried parsley
1 teaspoon dried basil
1 teaspoon dried thyme
½ teaspoon dried oregano
2 eggs
¼ cup olive oil
¼ cup grated Parmesan cheese (optional)
Directions :
Heat 1 tablespoon olive oil in a large pot over medium heat. Add onion and garlic; cook and stir until tender, about 5 minutes. Pour in crushed tomatoes and water. Bring to a boil; reduce heat and stir in tomato paste.
Fill empty tomato paste can with hot water; stir with a spoon to release any tomato paste left in the can. Pour into the pot. Add 1 teaspoon basil, 1 teaspoon oregano, 1 teaspoon parsley, 1 teaspoon salt, black pepper, and red pepper flakes. Simmer sauce until flavors combine, 30 minutes to 1 hour. Cover and keep warm.
Preheat oven to 350 degrees F (175 degrees C).
Place chicken breast cutlets between 2 sheets of heavy plastic on a solid, level surface; firmly pound with the smooth side of a meat mallet to 1/4-inch thickness. Season on both sides with salt and pepper.
Mix almond flour, tapioca flour, 2 teaspoons parsley, 1 teaspoon basil, thyme, and 1/2 teaspoon oregano together in a shallow bowl.
Whisk eggs in a shallow bowl. Dip chicken cutlets in whisked eggs to coat both sides. Dredge in almond flour mixture on both sides.
Heat 1/4 cup olive oil in a large skillet over medium-high heat. Cook chicken cutlets in batches until browned, about 3 minutes per side. Drain on paper towels.
Cover a large baking pan with a thin layer of tomato sauce; arrange chicken on top. Spoon some sauce over each cutlet. Sprinkle Parmesan cheese on top.
Bake in the preheated oven until chicken is no longer pink in the center, about 20 minutes.
Cook's Notes:
if you don't have a meat mallet, you can use a wine bottle or rolling pin.
Substitute coconut oil for the olive oil if desired.
Click on the Next Page Button to continue reading.
Don't forget to join our Facebook Group where we share Yummy recipes everyday