Shortbread thumbprint cookie filled with raspberry jam, and drizzled with glaze.
"Please let us know what you think if you ever try it at home , and don't forget to share it with your friends and family and also on social networks, this means a lot to us"
These are some of the reviews from people who tried this Raspberry and Almond Shortbread Thumbprints Recipe :
Amanda:
These are excellent cookies, and worth the effort! The shortbread cookie is extremely light and delicate. Dough can be a little difficult to work with…add flour 1/2 cup at a time. When forming balls, warm dough in hands for a few seconds to prevent crumbling. Don't skimp on the raspberry preserves!
kane :
Great cookie! Really delicious and very easy. I had a problem with the glaze though. I added more milk for easier consistency and I waited until cookies were cool to prevent drizzled glaze from spreading all over the cookie. If you're new to baking (like me) this is an awesome recipe!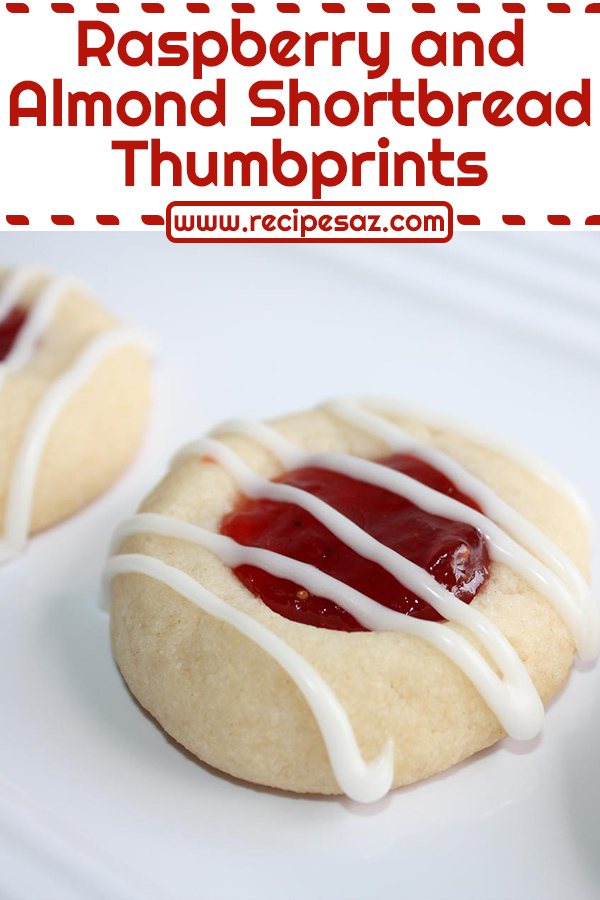 Ingredients
1 cup butter, softened
2/3 cup white sugar
1/2 teaspoon almond extract
2 cups all-purpose flour
1/2 cup seedless raspberry jam
1/2 cup confectioners' sugar
3/4 teaspoon almond extract
1 teaspoon milk
Directions
Preheat oven to 350 degrees F (175 degrees C).
In a medium bowl, cream together butter and white sugar until smooth. Mix in 1/2 teaspoon almond extract. Mix in flour until dough comes together. Roll dough into 1 1/2 inch balls, and place on ungreased cookie sheets. Make a small hole in the center of each ball, using your thumb and finger, and fill the hole with preserves.
Bake for 14 to 18 minutes in preheated oven, or until lightly browned. Let cool 1 minute on the cookie sheet.
In a medium bowl, mix together the confectioners' sugar, 3/4 teaspoon almond extract, and milk until smooth. Drizzle lightly over warm cookies.
Source : All Recipes