I'm going to show you how to make this incredibly simple and highly effective grilled chicken marinade. It's so perfect and juicy and flavorful. It's an overall gorgeous way to grill chicken.
"Please let us know what you think if you ever try it at home , and don't forget to share it with your friends and family and also on social networks, this means a lot to us"
These are some of the reviews from people who tried the Rusty Chicken Thighs Recipe :
JoJo :
This is a great recipe. The flavors are fantastic. I like heat, so I use a little extra sambal oelek. I've made this dish at least 7 times since I first tried it a couple of months ago. Delicious!
Josie :
Very tasty! We really liked this recipe. Chicken was tender and moist. Sweet yet spicy flavor. This was a big hit at my house! Thank you!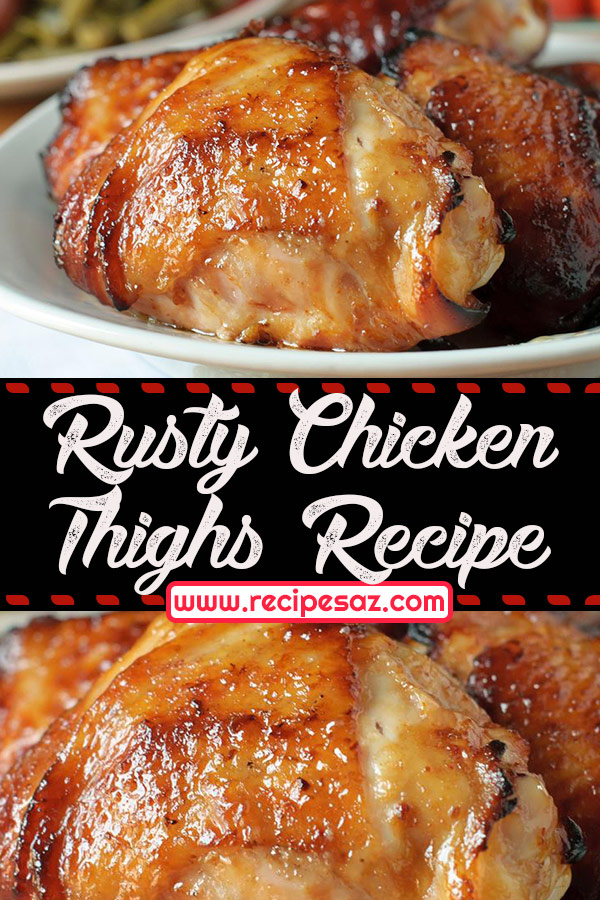 Ingredients
1 clove garlic, sliced, or more to taste
2 teaspoons Asian chile pepper sauce (such as sambal oelek), or more to taste
1 1/2 tablespoons maple syrup
2 tablespoons soy sauce
2 tablespoons mayonnaise
3 tablespoons rice vinegar
salt and freshly ground black pepper to taste
2 pounds skinless, boneless chicken thighs
1 lime, cut into 8 wedges
Directions
Mash garlic to a paste with a mortar and pestle. Mix chili pepper sauce, maple syrup, soy sauce, mayonnaise, and rice vinegar into garlic until marinade is thoroughly combined.
Transfer chicken thighs to a large flat container (such as a baking dish) and pour marinade over chicken; stir until chicken is coated. Cover dish with plastic wrap and refrigerate about 3 hours; if preferred, let stand about 30 minutes at room temperature. Unwrap dish and sprinkle with salt.
Preheat charcoal grill to high heat.
Place chicken thighs onto the hot grill with smooth sides down. Cook until chicken shows grill marks, about 3 minutes. Turn chicken over and cook until other side shows grill marks, about 5 minutes. Continue to cook, moving them occasionally and turning over every 2 minutes, until meat is no longer pink inside and the thighs are golden brown, 10 to 12 minutes.
Transfer chicken to a platter, let rest for 5 minutes, and serve garnished with lime wedges.
Source : All Recipes