This recipe is a hit wherever you go. It is a very rich and cheesy meal and looks like a deep-dish pizza when done. I altered what I was originally given because I did not like cottage cheese and added other ingredients that I thought it deserved.
"Please let us know what you think if you ever try it at home , and don't forget to share it with your friends and family and also on social networks, this means a lot to us"
These are some of the reviews from people who tried the Stuffed Shells Recipe :
Bella :
Great recipe. My husband and children loved it. Was lengthy to make though
Mina :
My husband and son love this recipe. I made it once, lost the recipe and they have been begging for it ever since! I didn't even get any the first time – they gobbled it up so fast.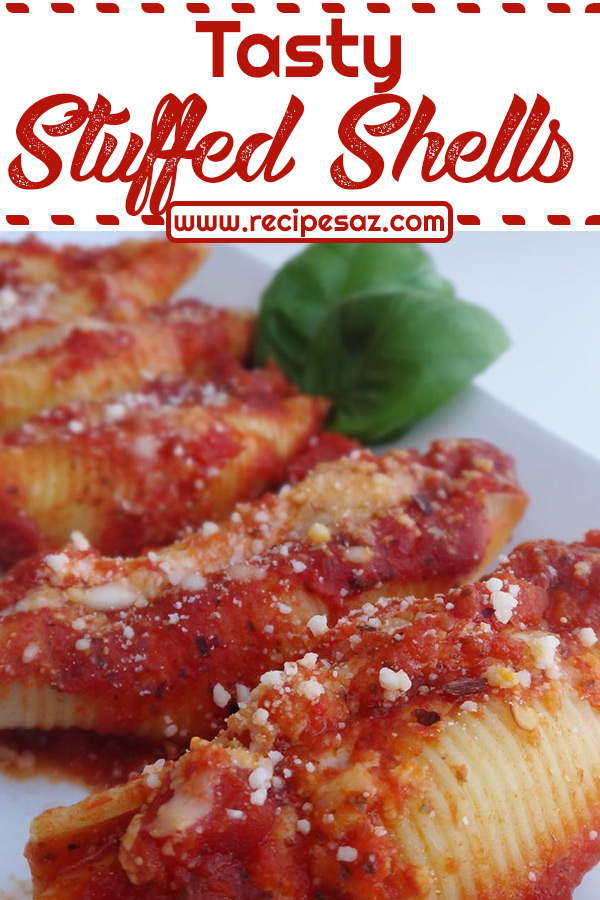 Ingredients
1 (12 ounce) package jumbo pasta shells
2 eggs, beaten
1 (32 ounce) container ricotta cheese
1 pound shredded mozzarella cheese, divided
8 ounces grated Parmesan cheese, divided
1 tablespoon dried parsley
2 teaspoons salt
1 teaspoon ground black pepper
1 (28 ounce) jar pasta sauce
8 ounces sliced fresh mushrooms
Directions
Preheat oven to 350 degrees F (175 degrees C).
Bring a large pot of lightly salted water to a boil. Add pasta and cook for 8 to 10 minutes or until al dente; drain.
In a large bowl, mix eggs, ricotta, half the mozzarella, half the Parmesan, parsley, salt and pepper until well combined. Stuff cooked shells with ricotta mixture and place in a 9×13 inch baking dish.
In a medium bowl, stir together pasta sauce, mushrooms and reserved mozzarella and Parmesan. Pour over stuffed shells.
Bake in preheated oven 45 to 60 minutes, until edges are bubbly and shells are slightly set.
Source : All recipes