My daughter renamed this recipe 'The Best Dessert I've Ever Eaten' this summer when I prepared it for Memorial Day. I had made it before, but my husband had probably eaten all of it before she had a chance to get a taste! My husband doesn't like me to take this dessert to a large gathering because it means he won't have any leftovers! Got this recipe from a Bunco friend.
"Please let us know what you think if you ever try it at home , and don't forget to share it with your friends and family and also on social networks, this means a lot to us"
These are some of the reviews from people who tried the Ice Cream Sandwich Cake Recipe :
Lorie :
This dessert was so simple and so yummy! Instead of the whipped topping in between, I used a Mocha Almond Fudge ice cream 😀 Next time I'm going to try a Mint Chocolate Chip ice cream. The possibilities are endless with this 🙂
Sarah :
Kids love this! It's less sinful with Skinny Cow ice cream bars, fat free cool whip, and low fat chocolate fudge sauce. Butterfingers or whatever decadent bar on top, of course!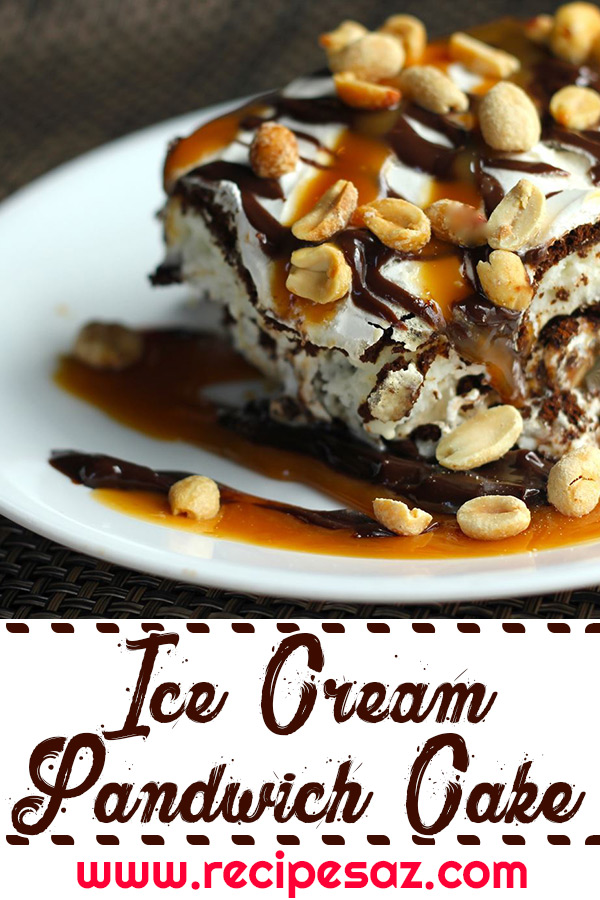 Ingredients
24 vanilla ice cream sandwiches, unwrapped
2 (8 ounce) containers whipped topping (such as Cool Whip(R)), thawed
1 (12 ounce) jar hot fudge ice cream topping, warmed
1 (12 ounce) jar caramel ice cream topping
1/4 cup chopped pecans, or to taste
Directions
Arrange a layer of ice cream sandwiches in the bottom of a 9×13-inch dish; top with a layer of whipped topping, hot fudge topping, and caramel topping. Repeat layering with remaining ice cream sandwiches, whipped topping, hot fudge topping, and caramel topping, ending with a top layer of whipped topping. Sprinkle with pecans. Cover dish with aluminum foil and freeze until set, at least 30 minutes.
Source : All Recipes