This simple recipe is a combination of banana cheesecake and banana cream pie all rolled into one dessert! It uses an Oreo(R)-cookie crust instead of the traditional graham cracker crust, adding a bit of a chocolate accent. Plus, it uses fat-free cream cheese, but proves to taste rich and creamy for a banana-y treat! Garnish with whipped cream and sliced bananas, if desired.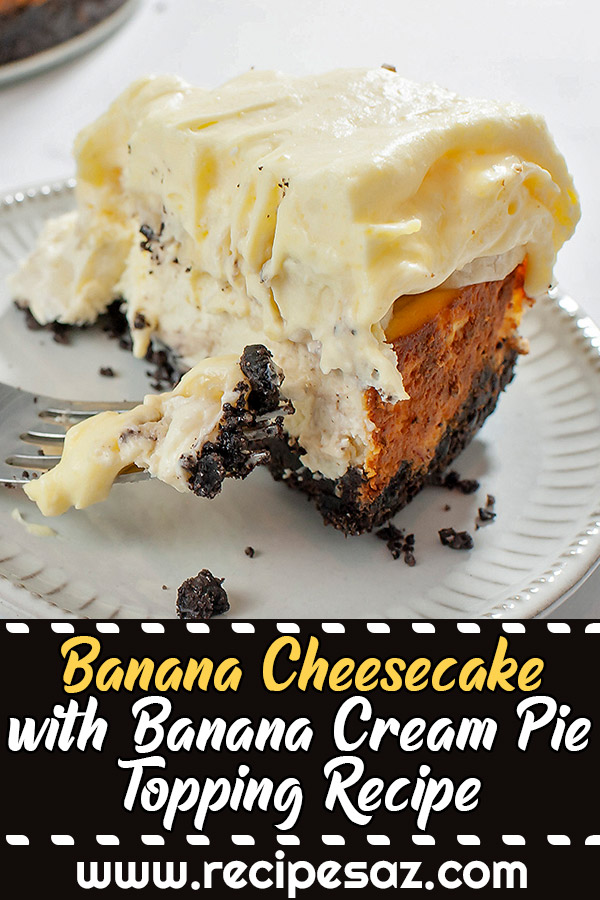 Ingredients
Cheesecake:
2 cups crushed chocolate sandwich cookies (such as Oreo(R))
1 tablespoon butter, melted
3 (8 ounce) packages fat-free cream cheese, softened
3/4 cup white sugar
3 eggs
1/2 cup mashed banana
1 teaspoon vanilla extract
Topping:
2 1/2 cups cold milk
2 (3.4 ounce) packages instant vanilla pudding mix
1 cup fat-free frozen whipped topping, thawed
1 sliced banana, or more to taste
Directions
Preheat the oven to 350 degrees F (175 degrees C).
Mix cookie crumbs and butter together in a bowl. Press mixture into the bottom of a 9-inch springform pan.
Mix cream cheese and sugar together in a bowl using an electric mixer until smooth and well blended. Add eggs 1 at a time, mixing after each addition. Stir in mashed banana and vanilla extract. Pour mixture into crust in the springform pan.
Bake in the preheated oven until center is almost set, 50 to 60 minutes. Cool completely, at least 1 hour, before removing from pan.
Whisk milk and pudding mix together in a bowl until thoroughly combined. Fold in whipped topping.
Arrange sliced bananas on top of cooled cheesecake. Spread pudding mixture on top. Chill at least 3 hours before serving.