An easy and delicious way to prepare tender barbecued ribs without the barbecue!
"Please let us know what you think if you ever try it at home , and don't forget to share it with your friends and family and also on social networks, this means a lot to us"
One of the reviews from one of the people who tried this Amazing Slow-Cooker Barbecue Ribs Recipe :
The genius of this recipe is the first step – roasting ribs in the oven. This removes fat and liquid that would otherwise cause soupy results in the crockpot. For this, it deserves 5 stars!! Use any sauce (I like 1 C. ketchup, 1 C. Stubb's barbecue sauce, 2 T. brown sugar, 1 t. Worcestershire, and Tabasco hot sauce to taste.) The original sauce recipe (which I've tried) isn't sharp or hot enough for our tastes. We use boneless beef chuck country ribs, 2 lbs. or more. Stir once during cooking time so ribs don't stick to sides and burn. To thicken sauce a bit, put the crockpot on High, with the lid ajar, during the last half hour. WONDERFUL!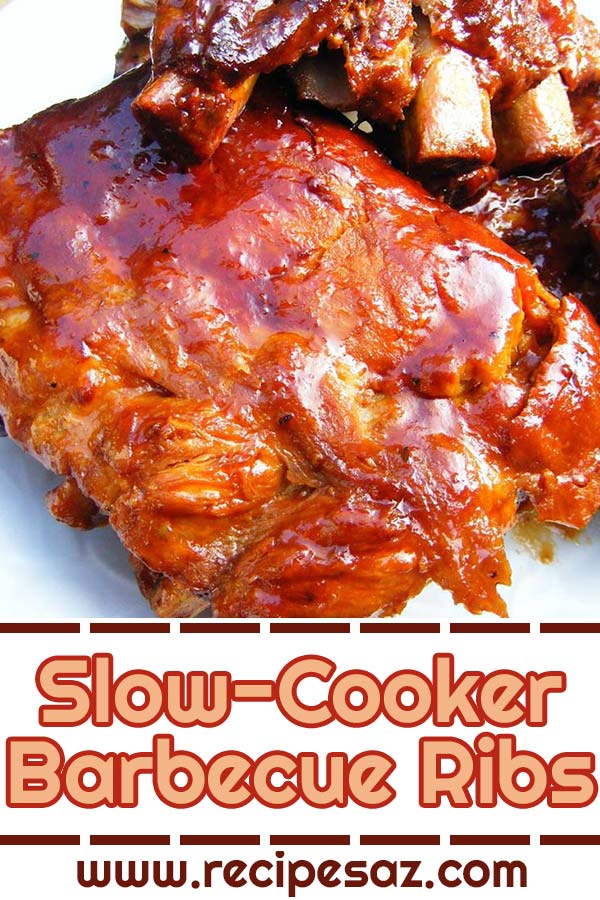 Ingredients :
4 pounds pork baby back ribs
salt and pepper to taste
2 cups ketchup
1 cup chili sauce
1/2 cup packed brown sugar
4 tablespoons vinegar
2 teaspoons dried oregano
2 teaspoons Worcestershire sauce
1 dash hot sauce
Directions :
Preheat oven to 400 degrees F (200 degrees C).
Season ribs with salt and pepper. Place in a shallow baking pan. Brown in oven 15 minutes. Turn over, and brown another 15 minutes; drain fat.
In a medium bowl, mix together the ketchup, chili sauce, brown sugar, vinegar, oregano, Worcestershire sauce, hot sauce, and salt and pepper. Place ribs in slow cooker. Pour sauce over ribs, and turn to coat.
Cover, and cook on Low 6 to 8 hours, or until ribs are tender.
Source : all Recipes