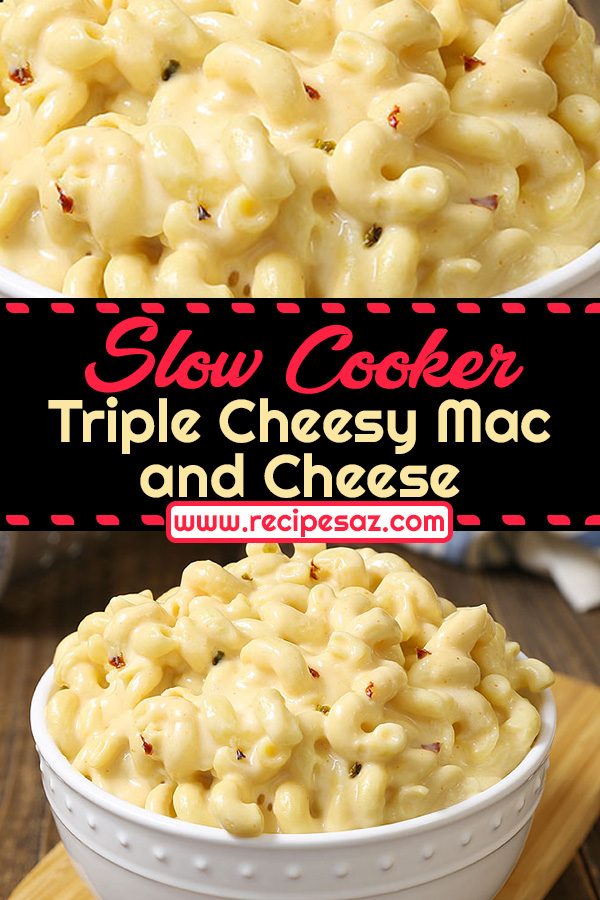 INGREDIENTS
1 pound cellentani pasta (also known as cavatappi), uncooked
4 tablespoons unsalted butter, sliced into 1-tbsp pieces
4 ounces cream cheese, cut into 1-oz pieces
1 teaspoon kosher salt
1/2 teaspoon cayenne pepper
3 cups whole milk
1/2 cup heavy cream
2 cups freshly shredded sharp cheddar cheese
1 cup fresh shredded pepper Jack cheese
INSTRUCTIONS
Pour the uncooked pasta onto the bottom of your slow cooker. I love my 6-quart for this recipe. Scatter the butter and cream cheese pieces over the pasta. Sprinkle the salt and cayenne pepper over the top and pour the milk and cream into the slow cooker. Stir to combine everything and smooth the pasta into one even layer coated in sauce.
Cover and cook on low for 1 to 2 hours, until the pasta is chewy (not quite crunchy, but very al dente). Your cook time will vary if you use a different pasta, so start with 1 hour and adjust from there. Stir once halfway through the cook time and be sure to smooth the pasta into one layer so it is well coated with the sauce. Once the pasta is ready, sprinkle on the cheddar and pepper Jack cheeses and stir to combine. The cheese will melt into the sauce to create the most luxurious creamy cheese sauce. Cover the mac and cheese and cook for 10 minutes, until the cheese is melted and it comes together. Stir before serving.
DONNA'S NOTES
The cheese sauce will thicken as it cools. If you plan to hold the mac and cheese in the slow cooker on warm, add extra milk as needed to keep the sauce nice and creamy. Also, if you are going to refrigerate it to eat later, add enough milk to the pasta to thin out the sauce before refrigerating. That way when you pull it out, it will scoop easily and the mac and cheese will warm up perfectly in the microwave or on the stove top. We do this every week and portion it out for easy lunches.
Source : theslowroasteditalian.com
Click on the Next Page Button to continue reading.
Don't forget to join our Facebook Group where we share Yummy recipes everyday