"Please let us know what you think if you ever try it at home , and don't forget to share it with your friends and family and also on social networks, this means a lot to us"
Ingredients :
Makes 6-8 servings
1 (46 ounce) can low sodium chicken broth
1 (15 ounce) can organic tomato sauce, or enchilada sauce (I prefer the enchilada)
1 (15 ounce) can organic diced tomatoes
4 cups cooked chicken, shredded (I used rotisserie from the Whole Foods deli)
1-3 anahiem chili's, diced (depending on heat preferences)
1-2 small jalapeno peppers, seeded & diced
1 cup diced yellow onion
4-6 large fresh tomatoes, diced
2 garlic cloves, minced
4 Tablespoon minced fresh cilantro
1 Tabelspoon chili powder
3 tsp cumin powder
2 tsp freshly ground pepper
1 tsp sea salt
2 tsp Chipotle Tabasco sauce
Garnish Suggestions :
avocado, diced
green onion, chopped
fresh cherry tomatoes, halved
cilantro leaves
lime wedges
crushed non-gmo blue tortilla chips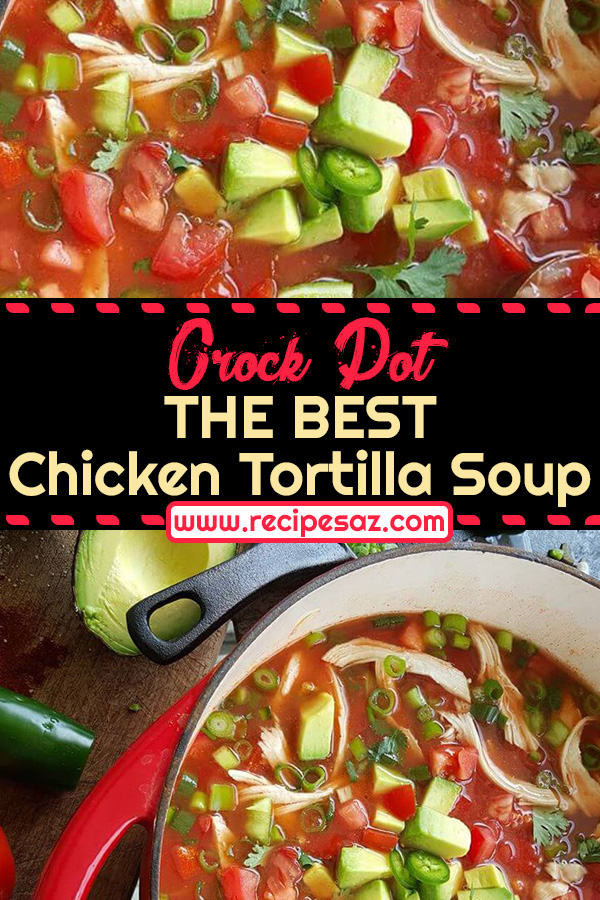 Instructions :
Place everything except the garnishes in the crock pot and cook on high for 5-6 hours.
Ladle into serving bowls, let everyone garnish as they choose, and add a good squeeze of lime!
If you are not using a crock pot, sauté the garlic and onion in 1 Tablespoon olive oil in hot stock pot, before adding the remaining ingredients.
Simmer on medium-ish heat for at least an hour or two so that the flavors combine.
This soup is even better the next day!
Consider doubling to make your week easier!
Source : cleanfoodcrush.com