A one-pot comfort food stew with a rich, savory broth, and loaded with fresh veggies and tender turkey meatballs.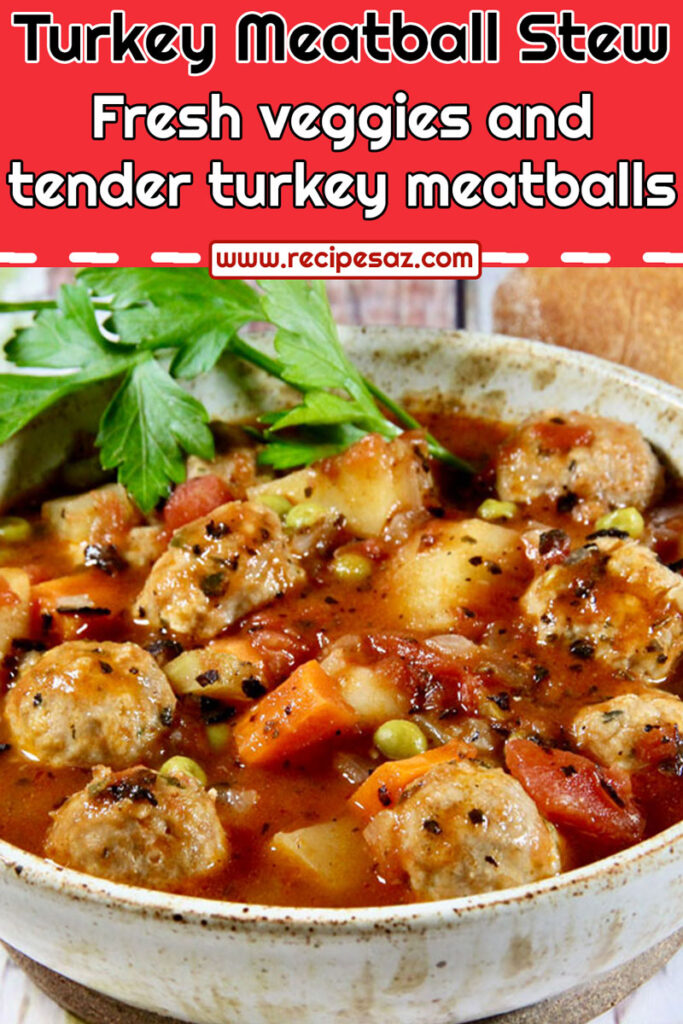 Ingredients :
cooking spray
Turkey Meatballs:
1 pound 93% lean ground turkey
1 cup fresh bread crumbs
1 large egg, lightly beaten
2 tablespoons minced fresh parsley
1 teaspoon Worcestershire sauce
1 teaspoon garlic powder
1/2 teaspoon Italian seasoning
1/2 teaspoon onion powder
salt and ground black pepper to taste
Stew :
1/4 cup olive oil
1 medium onion, chopped
2 stalks celery, chopped
2 (14.5 ounce) cans fire-roasted diced tomatoes, undrained
3 cups low-sodium chicken broth
2 cups cubed peeled potatoes
1 cup peeled, chopped carrots
1 cup frozen peas
1 teaspoon dried basil
1/2 teaspoon crushed red pepper flakes (optional)
Directions :
Preheat the oven to 375 degrees F (190 degrees C). Line a rimmed baking sheet with foil. Coat a wire rack with nonstick cooking spray, set on prepared baking sheet, and set aside.
Combine ground turkey, bread crumbs, egg, parsley, Worcestershire sauce, garlic powder, Italian seasoning, onion powder, salt, and pepper in a large bowl. Using a 2-teaspoon cookie scoop, shape the mixture into 1-inch balls and place on the baking rack.
Bake in the preheated oven until no longer pink in the center, about 12 minutes.
Meanwhile, heat olive oil in a Dutch oven over medium heat. Add onion and celery and cook until softened, about 5 minutes. Add tomatoes, chicken broth, potatoes, carrots, peas, basil, and red pepper flakes; stir until well combined. Bring to a boil, reduce heat to medium-low, and simmer, uncovered, until potatoes and carrots are cooked and the broth has somewhat reduced, 20 to 25 minutes.
Stir in meatballs and simmer until heated through, 5 to 7 minutes. Season stew with salt and pepper.