It's taken me several years to perfect this recipe. Now everyone asks, 'When are you making the eggnog?!' This uses cooked eggs for safety, and you can use more or less rum to taste. It's a bit of work to make, but well worth it. You'll never buy store-bought eggnog again! Enjoy!
"Please let us know what you think if you ever try it at home , and don't forget to share it with your friends and family and also on social networks, this means a lot to us"
These are some of the reviews from people who tried the Amazingly Good Eggnog Recipe :
Martha :
Excellent! This will definitely become a holiday tradition! You can use up to half the rum and still have the flavor of it without getting toasted. But depending on how hectic your holidays are, you might want to add the whole amount… and then some! I suggest adding the rum to taste.
Fiona :
This is fantastic eggnog! We served it new years eve and it was gone in the first hour. I served rum and brandy on the side for our guests to spike themselves instead of mixing it in.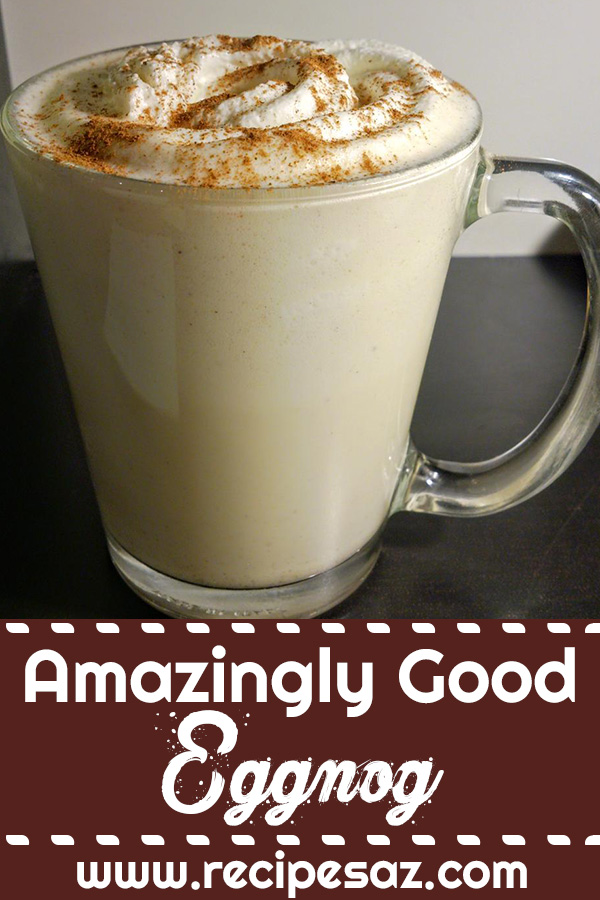 Ingredients :
4 cups milk
5 whole cloves
1/2 teaspoon vanilla extract
1 teaspoon ground cinnamon
12 egg yolks
1 1/2 cups sugar
2 1/2 cups light rum
4 cups light cream
2 teaspoons vanilla extract
1/2 teaspoon ground nutmeg
Directions :
Combine milk, cloves, 1/2 teaspoon vanilla, and cinnamon in a saucepan, and heat over lowest setting for 5 minutes. Slowly bring milk mixture to a boil.
In a large bowl, combine egg yolks and sugar. Whisk together until fluffy. Whisk hot milk mixture slowly into the eggs. Pour mixture into saucepan. Cook over medium heat, stirring constantly for 3 minutes, or until thick. Do not allow mixture to boil. Strain to remove cloves, and let cool for about an hour.
Stir in rum, cream, 2 teaspoon vanilla, and nutmeg. Refrigerate overnight before serving.
Source : All Recipes