These delicious mushrooms taste just like restaurant-style stuffed mushrooms and are my guy's absolute favorite.
"Please let us know what you think if you ever try it at home , and don't forget to share it with your friends and family and also on social networks, this means a lot to us"
These are some of the reviews from people who tried this Mouth-Watering Stuffed Mushrooms Recipe :
Selina :
These mushrooms are just amazing…absolutely wonderful. I love them and want to eat the whole batch myself but with all that cream cheese, I try to control myself!! I've made this recipe for YEARS and just discovered you can use the extra filling for a yummy spread on crackers/bread.
Beckie :
This recipe is wonderful and is very easy to prepare, my girls loved making them. I would make this recipe again.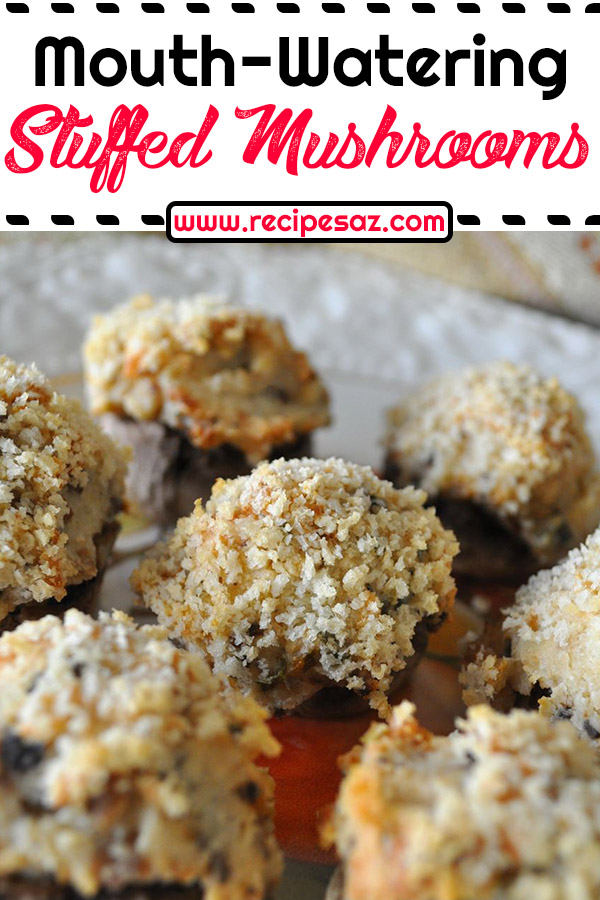 Ingredients :
12 whole fresh mushrooms
1 tablespoon vegetable oil
1 tablespoon minced garlic
1 (8 ounce) package cream cheese, softened
1/4 cup grated Parmesan cheese
1/4 teaspoon ground black pepper
1/4 teaspoon onion powder
1/4 teaspoon ground cayenne pepper
Directions :
Preheat oven to 350 degrees F (175 degrees C). Spray a baking sheet with cooking spray. Clean mushrooms with a damp paper towel. Carefully break off stems. Chop stems extremely fine, discarding tough end of stems.
Heat oil in a large skillet over medium heat. Add garlic and chopped mushroom stems to the skillet. Fry until any moisture has disappeared, taking care not to burn garlic. Set aside to cool.
When garlic and mushroom mixture is no longer hot, stir in cream cheese, Parmesan cheese, black pepper, onion powder and cayenne pepper. Mixture should be very thick. Using a little spoon, fill each mushroom cap with a generous amount of stuffing. Arrange the mushroom caps on prepared cookie sheet.
Bake for 20 minutes in the preheated oven, or until the mushrooms are piping hot and liquid starts to form under caps.
Source : All Recipes