This recipe is a hit with my husband and everyone else I've given the recipe to. It's very easy and satisfies that Italian craving.
"Please let us know what you think if you ever try it at home , and don't forget to share it with your friends and family and also on social networks, this means a lot to us"
These are some of the reviews from people who tried the Beefy Baked Ravioli Recipe :
Angee :
My guys loved this!! I browned the meat with 1 diced onion and 2 pressed garlic cloves. I omitted the canned Spaghetti sauce and instead I used 1 (29 oz) can of Tom puree, 2 (14.5 oz) cans of petite diced tomatoes and 1 can of tom paste. I seasoned it as I would a spaghetti sauce with basil, oregano and a little sugar. I used a whole bag of cheese raviolis. My husband said it was better than lasagna! High praise indeed! We have a 14 year old and a 4 year old. They loved it too. Thank you for sharing such a great recipe!
Lizzy :
My husband and I loved it. I used fresh ravioli and cheddar cheese instead of Monterrey Jack. I ended up putting the whole can of tomatoes with juice and it still ended up great! Will definitely make this again.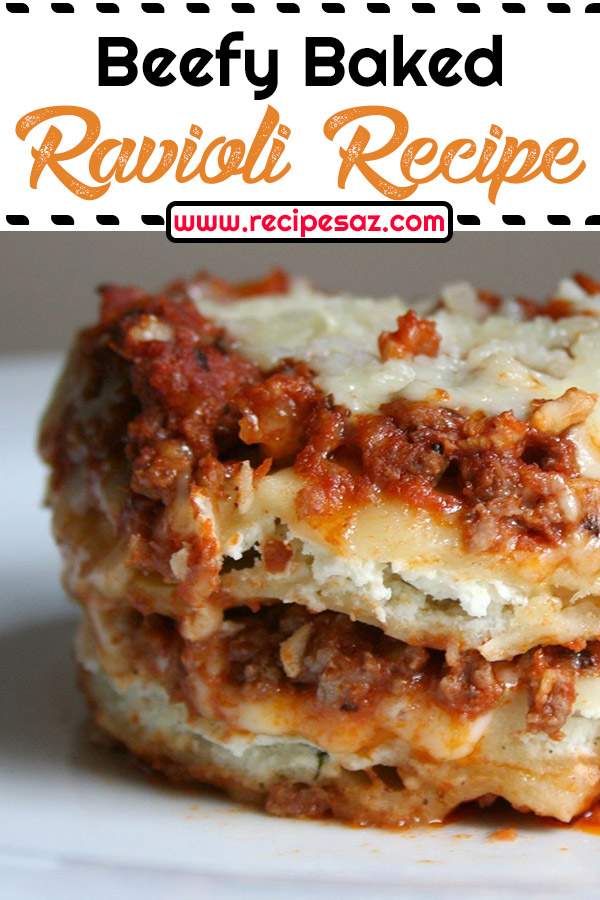 Ingredients :
1 pound ground beef
1/2 (25 ounce) package frozen cheese ravioli
1 (14 ounce) jar spaghetti sauce
1 (14.5 ounce) can diced tomatoes, drained
1 cup shredded mozzarella cheese
1 cup shredded Monterey Jack cheese
1 tablespoon grated Parmesan cheese
Directions :
Preheat the oven to 450 degrees F (230 degrees C).
Crumble the ground beef into a large skillet over medium-high heat. Cook and stir until no longer pink. Drain grease, then stir in the spaghetti sauce and tomatoes.
Spread 1/3 of the sauce in the bottom of an 11×7 inch baking dish. Arrange 1/2 of the ravioli over the sauce. Sprinkle 1/2 of the mozzarella cheese and 1/2 of the Monterrey Jack cheese over the ravioli. Repeat layers, ending with the last of the sauce on top. Cover with aluminum foil.
Bake for 30 minutes in the preheated oven. Sprinkle Parmesan cheese over the top before serving.
Source : All Recipes