Not authentically Mexican in the slightest, but holy buckets are they good! Great way to use up leftover rotisserie chicken.
Ingredients
cooking spray
2 tablespoons olive oil
1/4 cup chopped yellow onion
1/2 leftover rotisserie chicken, chopped
1/4 cup crumbled cooked bacon
2 tablespoons roasted garlic
1/2 teaspoon salt
1/2 teaspoon ground black pepper
1/2 teaspoon garlic powder
1 bunch green onions, chopped
2 tablespoons ranch dressing
2 tablespoons sour cream
15 (6 inch) corn tortillas, or more to taste
2 cups shredded Cheddar-Monterey Jack cheese blend
1 cup mild enchilada sauce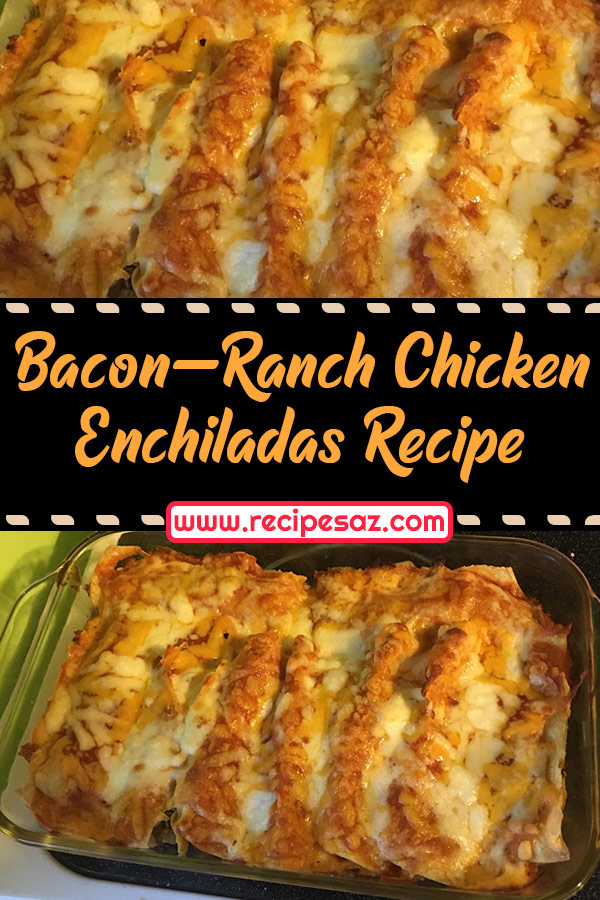 Directions
Preheat the oven to 450 degrees F (230 degrees C). Spray a 9×12-inch brownie pan with cooking spray.
Heat olive oil in a large skillet over medium heat. Add onion and cook until soft, about 5 minutes. Stir in chicken, bacon, and roasted garlic. Season with salt, pepper, and garlic powder. Stir in green onions.
Mix ranch dressing and sour cream together in a small bowl. Remove chicken mixture from heat and stir just enough ranch mixture into the skillet to barely coat chicken.
Hold 1 tortilla and spoon 2 tablespoons chicken mixture across the middle. Sprinkle 1 tablespoon Cheddar-Monterey Jack cheese blend over chicken and roll tortilla up. Place filled tortilla, seam-side down, against the short end of the pan so it does not unroll. Repeat with remaining tortillas and filling until pan is jammed full of enchiladas.
Pour enchilada sauce on top of filled tortillas to cover without drowning them. Sprinkle remaining Cheddar-Monterey Jack cheese blend generously on top of everything.
Bake in the preheated oven until bubbly on top, about 15 minutes.