This versatile one-dish pasta bake uses your favorite pizza ingredients like bell pepper, sausage, pepperoni, and olives–and you can use your family's favorite pasta shapes.
Ingredients
1 pound any shape pasta (such as penne, farfalle, elbows)
1 pound Italian sausage
1 green bell pepper, diced
1/2 sweet onion, diced
4 ounces sliced pepperoni, cut into bite-sized pieces
2 ounces sliced black olives
2 ounces cream cheese
1 (24 ounce) jar RAGÚ® Old World Style® Traditional Sauce
2 cups shredded mozzarella cheese
1/2 teaspoon Italian seasoning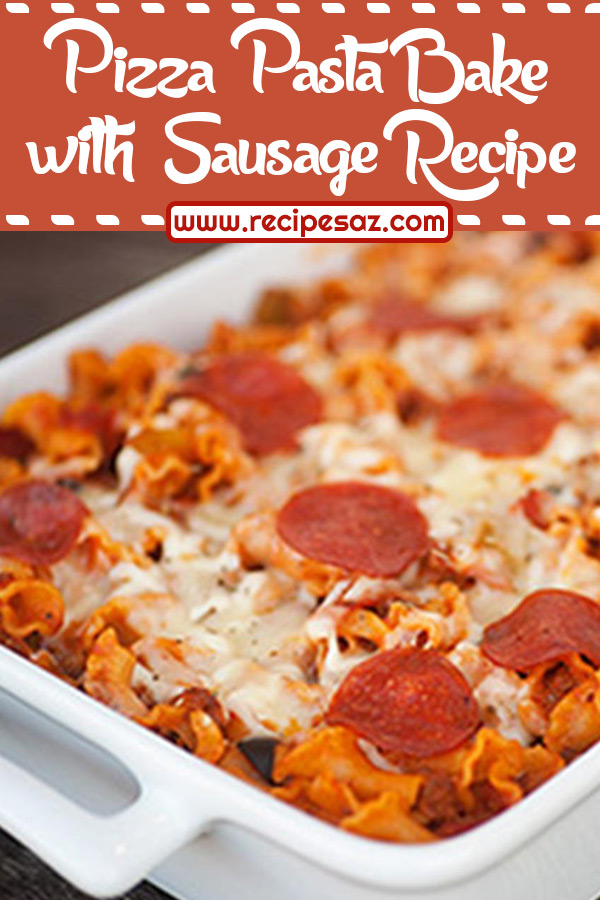 Directions
Preheat oven to 350 degrees F (175 degrees C). Lightly spray a 9×13-inch baking dish with cooking spray.
Bring a large pot of water to a boil and cook the pasta according to package directions.
While pasta is cooking, cook the sausage in a skillet over medium heat until just lightly pink. Add green bell pepper and onion to the sausage. Continue cooking until the meat is cooked through. Add the pepperoni, olives, cream cheese, and sauce. Cook over low heat until heated through and cheese has melted.
When pasta is done, drain and return to the pot. Stir the sausage mixture into the pasta; stir to coat the pasta.
Add half of the pasta mixture to prepared baking dish. Top with half of the mozzarella cheese. Spread the remaining pasta over the cheese and top with the remaining mozzarella cheese. Sprinkle with the Italian seasoning and place a few pepperoni slices on top, if you like.
Bake until the cheese has melted and the pasta is heated through, about 15 minutes.