The red and green make a great Christmas cookie. Have used other nuts instead of pistachios with success. If your pistachios are salted, omit the 1/4 teaspoon salt from the recipe.
"Please let us know what you think if you ever try it at home , and don't forget to share it with your friends and family and also on social networks, this means a lot to us"
These are some of the reviews from people who tried the Cranberry Pistachio Biscotti Recipe :
Debora :
Excellent recipe that won me a baking contest! Soft enough that they can be eaten without being dipped in a drink. Make sure to let the logs cool before slicing them, otherwise they will crumble and fall apart. Highly recommended!!!!
Stephanie :
These are fantastic! I've made several batches of these in the past few months. Yes, the nuts can be difficult to cut through- I coarsely chop mine. I've also coated one side in white chocolate then drizzled it with milk chocolate- beautiful presentation & tastes great! DO use parchment paper, as the recipe calls for, or they will stick. Wetting your hands does make shaping the sticky dough very easy. These also freeze beautifully. 5 stars!!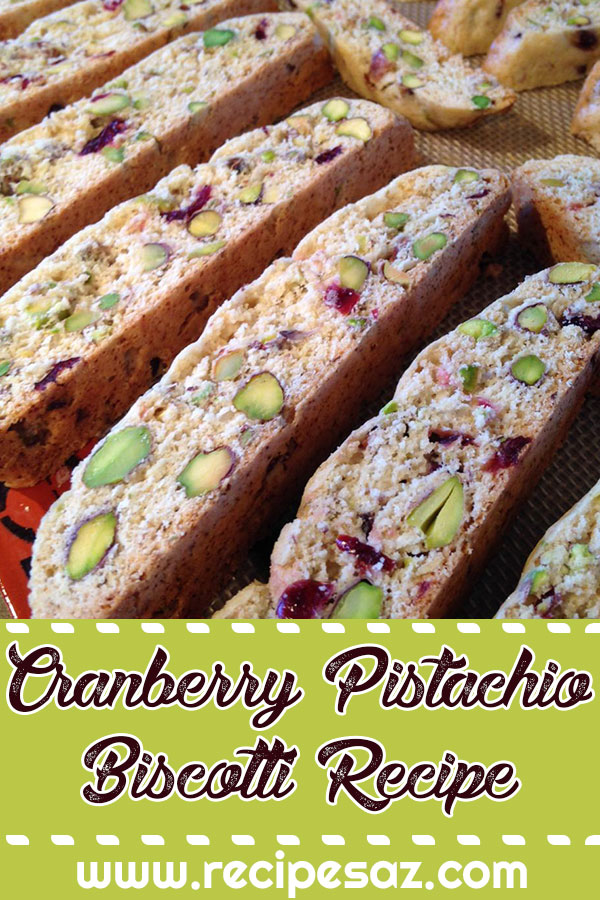 Ingredients
1/4 cup light olive oil
3/4 cup white sugar
2 teaspoons vanilla extract
1/2 teaspoon almond extract
2 eggs
1 3/4 cups all-purpose flour
1/4 teaspoon salt
1 teaspoon baking powder
1/2 cup dried cranberries
1 1/2 cups pistachio nuts
Directions
Preheat the oven to 300 degrees F (150 degrees C).
In a large bowl, mix together oil and sugar until well blended. Mix in the vanilla and almond extracts, then beat in the eggs. Combine flour, salt, and baking powder; gradually stir into egg mixture. Mix in cranberries and nuts by hand.
Divide dough in half. Form two logs (12×2 inches) on a cookie sheet that has been lined with parchment paper. Dough may be sticky; wet hands with cool water to handle dough more easily.
Bake for 35 minutes in the preheated oven, or until logs are light brown. Remove from oven, and set aside to cool for 10 minutes. Reduce oven heat to 275 degrees F (135 degrees C).
Cut logs on diagonal into 3/4 inch thick slices. Lay on sides on parchment covered cookie sheet. Bake approximately 8 to 10 minutes, or until dry; cool.
Source : All Recipes