A chicken and spinach lasagna with a creamy white cheese sauce. Great for any kind of pot luck. My kids love it.
"Please let us know what you think if you ever try it at home , and don't forget to share it with your friends and family and also on social networks, this means a lot to us"
This a review from Debbie who tried the White Cheese Chicken Lasagna Recipe :
The only way I could describe this dish is heavenly. It is pretty rich though so I won't be making it often and I felt like I dirtied every pan I own. I made a few adjustments and have a few more that I will try next time I make it. For the sauce I added about two teaspoons of chopped garlic from a jar and thought it was perfect. I didn't chop my onions fine enough though. I recommend you chop them very fine. I only had one 10 oz can of chicken broth so I made up the rest of the two cups of broth with white wine. I used the amount of oregano and basil called for and thought that was perfect. But the wine may have hidden some of the taste. I added salt and pepper at the very end based on taste. I am not sure how much I added. The recipe is not clear if the noodles should be precooked, so I used no bake noodles. I baked the chicken in the oven with no spices. The chicken itself didn't have much flavor, but you don't miss it with everything else going on. I used a 16 oz package of spinach and was still a little too much in my opinion. Next time I will use one 10 oz package. I didn't pay attention to how the recipe said to layer, because it didn't make any sense to me. I put a third of the sauce in the pan, a layer of noodles, half of the chicken, spinach, and ricotta. Then another layer of noodles, 1/3 of the sauce, rest of the chicken, spinach and ricotta. The final layer of noodles and sauce. Then the mozzarella and Parmesan cheese. Because I made ahead of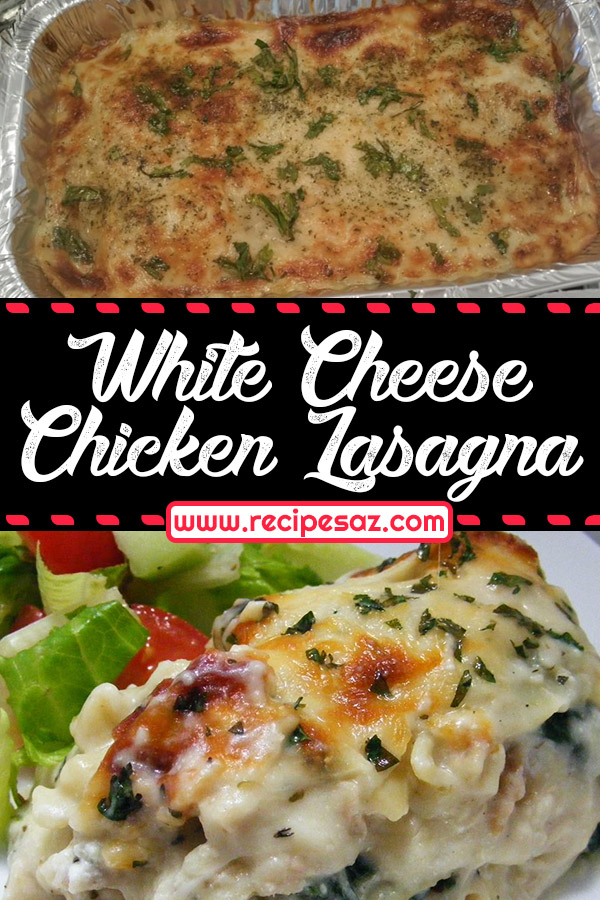 Ingredients
9 lasagna noodles
1/2 cup butter
1 onion, chopped
1 clove garlic, minced
1/2 cup all-purpose flour
1 teaspoon salt
2 cups chicken broth
1 1/2 cups milk
4 cups shredded mozzarella cheese, divided
1 cup grated Parmesan cheese, divided
1 teaspoon dried basil
1 teaspoon dried oregano
1/2 teaspoon ground black pepper
2 cups ricotta cheese
2 cups cubed, cooked chicken meat
2 (10 ounce) packages frozen chopped spinach, thawed and drained
1 tablespoon chopped fresh parsley
1/4 cup grated Parmesan cheese for topping
Directions
Preheat oven to 350 degrees F (175 degrees C). Bring a large pot of lightly salted water to a boil. Cook lasagna noodles in boiling water for 8 to 10 minutes. Drain, and rinse with cold water.
Melt the butter in a large saucepan over medium heat. Cook the onion and garlic in the butter until tender, stirring frequently. Stir in the flour and salt, and simmer until bubbly. Mix in the broth and milk, and boil, stirring constantly, for 1 minute. Stir in 2 cups mozzarella cheese and 1/4 cup Parmesan cheese. Season with the basil, oregano, and ground black pepper. Remove from heat, and set aside.
Spread 1/3 of the sauce mixture in the bottom of a 9×13 inch baking dish. Layer with 1/3 of the noodles, the ricotta, and the chicken. Arrange 1/3 of the noodles over the chicken, and layer with 1/3 of the sauce mixture, spinach, and the remaining 2 cups mozzarella cheese and 1/2 cup Parmesan cheese. Arrange remaining noodles over cheese, and spread remaining sauce evenly over noodles. Sprinkle with parsley and 1/4 cup Parmesan cheese.
Bake 35 to 40 minutes in the preheated oven.
Source : All Recipes