Someone brought this salad to a pot luck dinner and I had to have the recipe. I have made it many, many times since then and I have been asked for the recipe every time I bring it somewhere. It is also a great way to get kids to eat spinach!
"Please let us know what you think if you ever try it at home , and don't forget to share it with your friends and family and also on social networks, this means a lot to us"
These are some of the reviews from people who tried the Strawberry Spinach Salad Recipe :
Theresa :
This salad is so tasty, specifically the dressing is out of this world delishhh. It is important to chill the dressing for a bit after mixing the ingredients together so that they blend with each other well and mix well right before pouring it on the salad. My advice is not to skip the onion even if you don't like them because they play an important role in the taste of the dressing. You can hardly taste them in the dressing as the onion taste is not the dominant taste but they play an important role in marrying the sugar and vinegar together to create the specific taste this dressing has. For mine I halved the amount of sugar and it still came out super. I love the strawberries in the salad, but if you don't have them they can also be substituted for other fruits such as pineapple, oranges, or apples. A+ 🙂
Merry :
Excellent! Brought this to several parties and it was a big hit! Used less sugar and used balsamic vinegar and it was fantastic!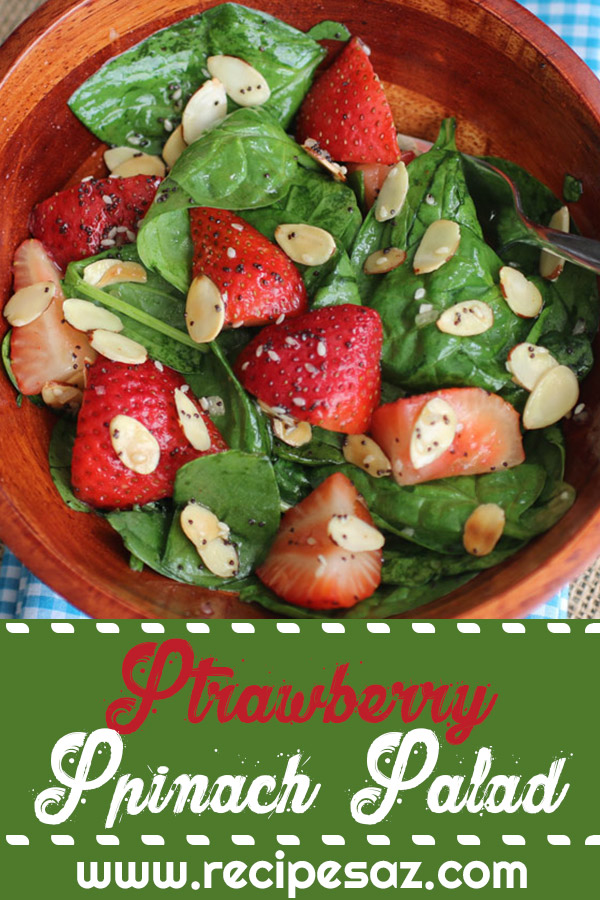 Ingredients
2 tablespoons sesame seeds
1 tablespoon poppy seeds
1/2 cup white sugar
1/2 cup olive oil
1/4 cup distilled white vinegar
1/4 teaspoon paprika
1/4 teaspoon Worcestershire sauce
1 tablespoon minced onion
10 ounces fresh spinach – rinsed, dried and torn into bite-size pieces
1 quart strawberries – cleaned, hulled and sliced
1/4 cup almonds, blanched and slivered
Directions
In a medium bowl, whisk together the sesame seeds, poppy seeds, sugar, olive oil, vinegar, paprika, Worcestershire sauce and onion. Cover, and chill for one hour.
In a large bowl, combine the spinach, strawberries and almonds. Pour dressing over salad, and toss. Refrigerate 10 to 15 minutes before serving.
Source : All Recipes