Rosemary, thyme, and garlic season a whole beef tenderloin which is then grilled to a rosy pink.
"Please let us know what you think if you ever try it at home , and don't forget to share it with your friends and family and also on social networks, this means a lot to us"
These are some of the reviews from people who tried the Grilled Beef Tenderloin with Herb-Garlic-Pepper Coating Recipe :
Mitch :
This is an absolute keeper. I made this for a cookout on Labor Day. It got rave reviews from everybody. I will definitely make this again, probably as an alternative to turkey for the holidays.
Agatha :
This turned out great, though the meat cut was more than we used, I'll use the leftovers in Sheppard's pie, pulled pork etc. Overall turned out very very good.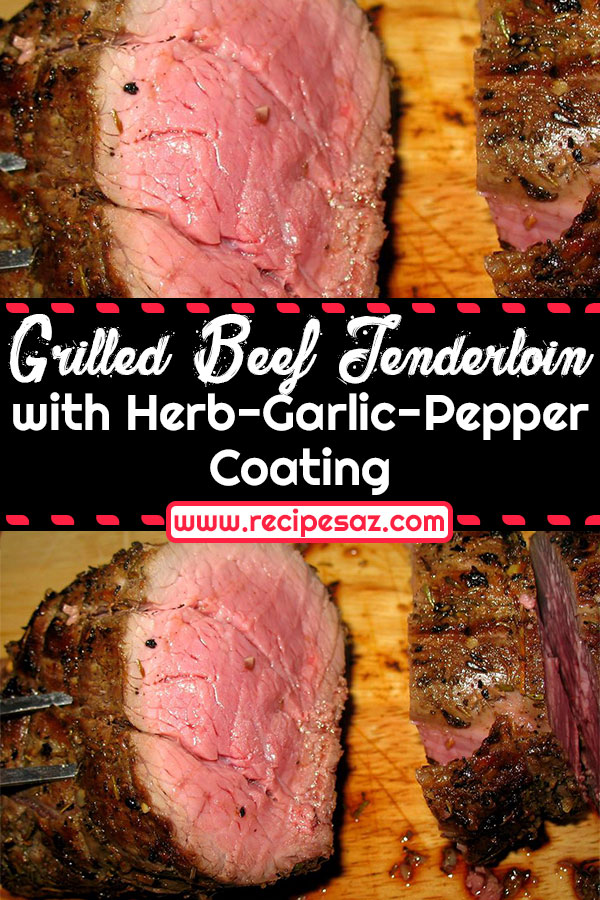 Ingredients :
1 (5 pound) whole beef tenderloin
6 tablespoons olive oil
8 large garlic cloves, minced
2 tablespoons minced fresh rosemary
1 tablespoon dried thyme leaves
2 tablespoons coarsely ground black pepper
1 tablespoon salt
Directions :
Prepare beef: Trim off excess fat with a sharp knife. Fold thin tip end under to approximate the thickness of the rest of the roast. Tie with butcher's twine, then keep tying the roast with twine every 11/2 to 2 inches (to help the roast keep its shape). Snip silverskin with scissors to keep roast from bowing during cooking. Then, mix oil, garlic, rosemary, thyme, pepper and salt; rub over roast to coat. Set meat aside.
Either build a charcoal fire in half the grill or turn all gas burners on high for 10 minutes. Lubricate grate with an oil-soaked rag using tongs. Place beef on hot rack and close lid; grill until well-seared, about 5 minutes. Turn meat and close lid; grill until well-seared on second side, another 5 minutes.
Move meat to the charcoal grill's cool side, or turn off burner directly underneath the meat and turn remaining one or two burners (depending on grill style) to medium. Cook until a meat thermometer inserted in the thickest section registers 130 degrees for rosy pink, 45 to 60 minutes, depending on tenderloin size and grill. Let meat rest 15 minutes before carving.
Source : All Recipes