A near perfect strawberry margarita with frozen strawberries and limeade concentrate.
"Please let us know what you think if you ever try it at home , and don't forget to share it with your friends and family and also on social networks, this means a lot to us"
These are some of the reviews from people who tried the Ultimate Frozen Strawberry Margarita Recipe :
Arnold :
This margarita recipe was well named! It IS the ultimate. Bear in mind I'm writing this after having consumed two of these very strong drinks. A full cup of booze goes in with 3/4s of it being tequila so be sure to use a good brand. Very tasty and considerably less expensive then buying the ready to use mixes. MMMMM Think I'll have me another.
Frank :
I could drink a pitcher all to myself! This margarita rocks! I think the frozen strawberries help make it the perfect slushie-like drink. My blender works better if you put the liquids in first and then the ice. I put everything in the blender and whatever room I had left I filled with ice. I made this for a dinner party and went through 3 pitchers! (for only 4 people) Very tasty. Used salt instead of sugar on the rims of the glasses but I'm sure either way is just as good.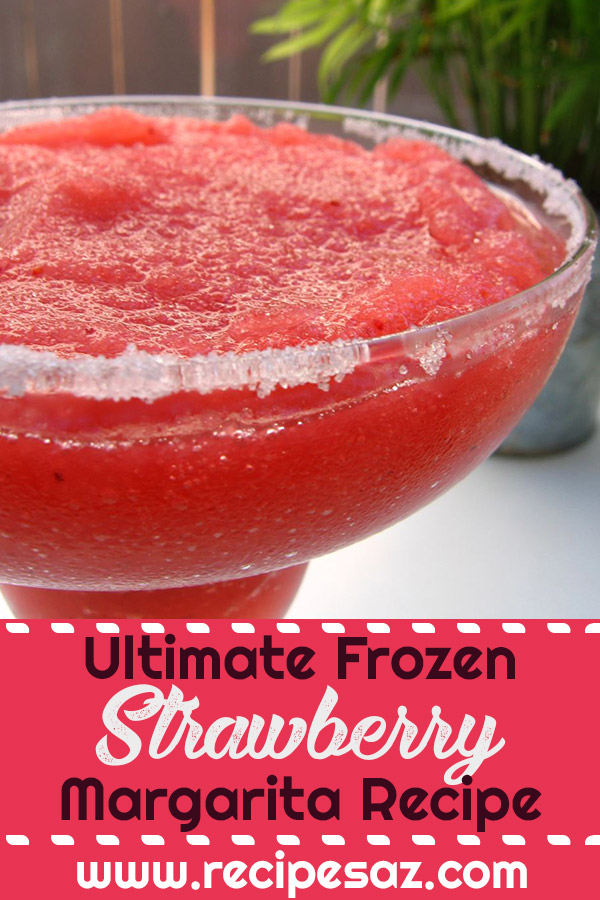 Ingredients
6 fluid ounces tequila
2 fluid ounces triple sec
8 ounces frozen sliced strawberries in syrup
4 fluid ounces frozen limeade concentrate
Directions
Fill a blender with ice and crush. Pour in the tequila and triple sec. Add the strawberries and limeade. Blend for 30 seconds or until smooth. Serve in margarita glasses with the rims dipped in powdered sugar.
Source : All Recipe