I love this recipe. It's great paired with salad and/or brown basmati rice. So Paleo. So delicious!
"Please let us know what you think if you ever try it at home , and don't forget to share it with your friends and family and also on social networks, this means a lot to us"
These are some of the reviews from people who tried the Roasted Balsamic Chicken with Baby Tomatoes Recipe :
Molly :
Muriel, balsamic vinegar is the first ingredient. I have made this, and (the little green herb), yes I add parsley to most of my dishes for a garnish, makes the dish very presentable. I leave out the zest. Have made with fire roasted and cherry tomatoes. Great recipe, thanks for posting.
Amy :
I've made this a couple of times now; it makes for a great weeknight meal! I marinate the chicken breasts in the refrigerator for the duration of the day, and begin preheating the oven the moment I walk in the door. Simple and tasty!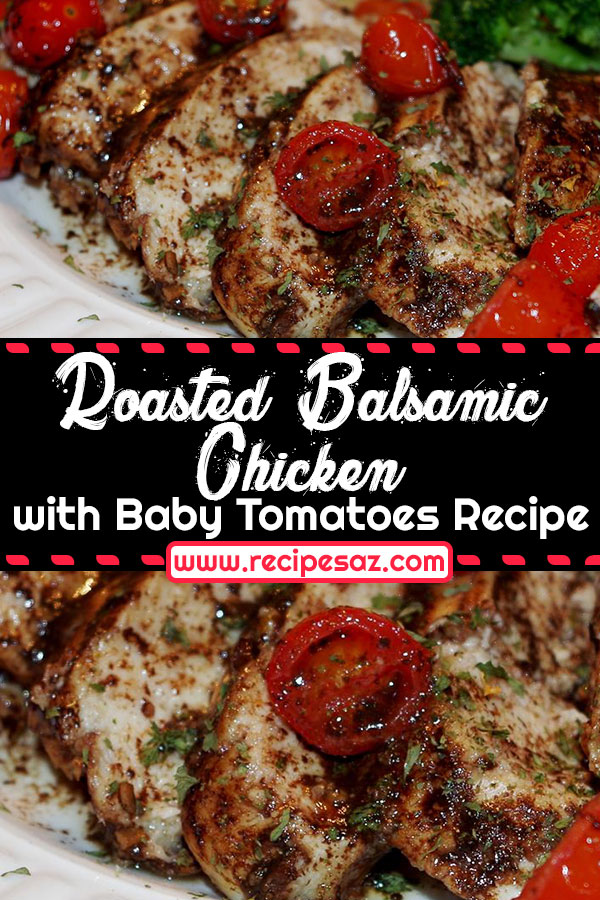 Ingredients :
1/2 cup balsamic vinegar
1 tablespoon olive oil
1 tablespoon Dijon mustard, or more to taste
1 clove garlic, or more to taste, minced
salt and freshly ground pepper to taste
4 large skinless, boneless chicken breast halves
1 pint cherry tomatoes, halved
1 lemon, zested and juiced
Directions :
Mix balsamic vinegar, olive oil, mustard, and garlic together in an oven-safe baking dish; season with salt and pepper. Lie the chicken breasts in the vinegar mixture.
Marinate chicken in the refrigerator for at least 4 hours.
Preheat oven to 400 degrees F (200 degrees C).
Roast chicken in the preheated oven for about 30 minutes. Add tomatoes to the baking dish and continue cooking until the chicken is no longer pink in the center and the juices run clear, about 10 minutes more. An instant-read thermometer inserted into the center should read at least 165 degrees F (74 degrees C).
Sprinkle lemon zest and drizzle lemon juice over the chicken.
Source : All Recipes