Cream cheese squares. Very easy, and very good.
"Please let us know what you think if you ever try it at home , and don't forget to share it with your friends and family and also on social networks, this means a lot to us"
These are some of the reviews from people who tried the Cream Cheese Squares Recipe :
Angee :
My family really liked this recipe. I made some changes: I used a 6 x 6 pan, 1 tube of crescent roll, 1 cup of sugar, 1 8oz package of cream cheese, real lemon zest, I brushed butter on top (I saw comments on it being soggy), & sprinkled sugar & Tupperware seasoning "cinnamon vanilla" on top. I cooked the bottom crust 1st for about 5 minutes also.
Susan :
Oh my God – Are these squares ever delicious, can't believe how wonderful they are. I went to the store to get more ingredients to make them again on the weekend. These ones won't last very long in my house. I don't think you need 1/2 cup of melted marg. drizzled over them though, 1/4 cup was just perfect. Thanks for the awesome recipe. Susan from Nova Scotia, Canada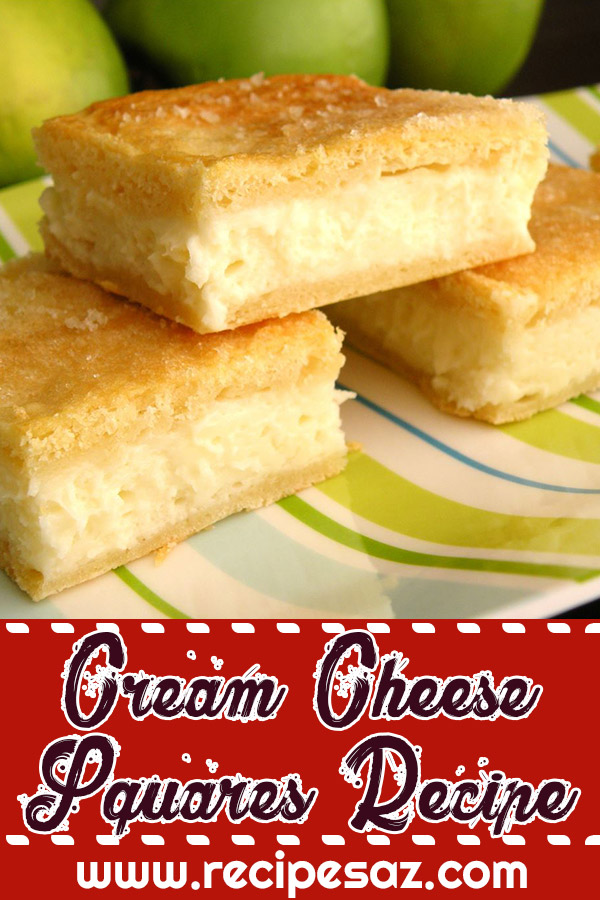 Ingredients :
2 (8 ounce) cans refrigerated crescent roll dough
2 (8 ounce) packages cream cheese
1 cup white sugar
1 teaspoon vanilla extract
1/2 cup margarine, melted
1/4 cup white sugar
1 teaspoon ground cinnamon
Directions :
Preheat oven to 350 degrees F (175 degrees C). Grease a 9×13 inch pan.
Press one can of the crescent rolls into the bottom of the prepared pan. In a medium bowl, mix together the cream cheese, 1 cup of sugar, and vanilla until smooth and creamy. Spread over the crescent layer. Unroll the second can of crescent rolls and lay them on top of the cream cheese layer. Do not press down. Pour the melted margarine over the entire pan. Combine the remaining 1/4 cup of sugar and cinnamon; sprinkle over the top.
Bake for 25 to 30 minutes in the preheated oven, or until the top is crisp and golden.
Source : All recipes