I double the recipe and put in a glass baking dish (9×13 inches). Nice for holidays . . . Keep it for a secret and family and friends will think you worked forever on it . . . (smiles). You can also use peanut butter chips and make peanut butter fudge.
"Please let us know what you think if you ever try it at home , and don't forget to share it with your friends and family and also on social networks, this means a lot to us"
These are some of the reviews from people who tried the Yummy Fudge Recipe :
Lynn :
This is such an easy and great tasting fudge recipe. To make it easier, I lined the 8X8 dish with aluminum foil. That way, when the fugde has hardened, you can lift it straight up out of the baking dish, and makes for easier cutting. Also, be sure to press melted chocolate down in dish. My fudge came out with some air bubbles. Still tasted awesome though.
Christy :
Great, easy fudge recipe. To prevent a grainy texture, pre-melt the butter, then add the chips and milk, stir, then microwave for 30 second intervals and keep stirring. Takes 3 minutes to make, max!!!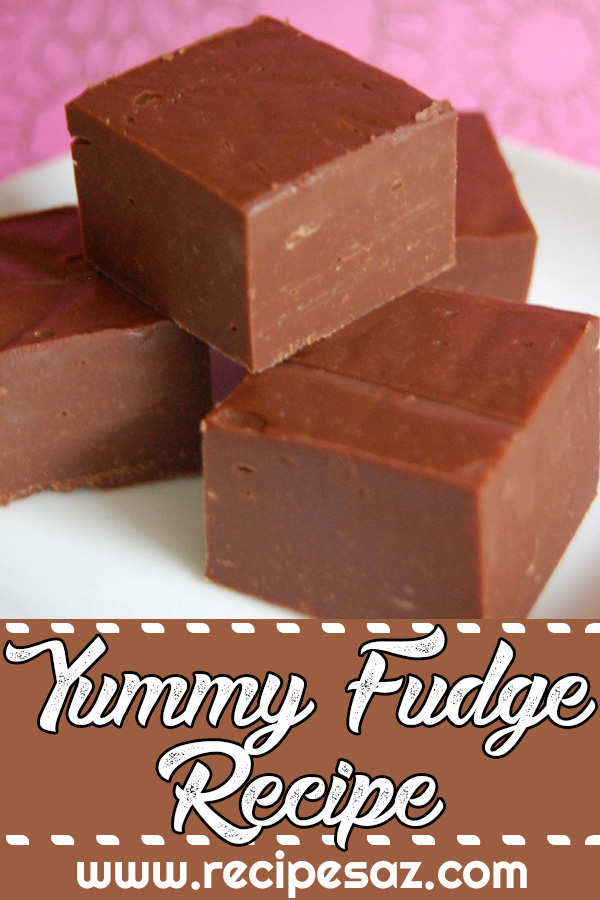 Ingredients
3 cups semisweet chocolate chips
1 (14 ounce) can sweetened condensed milk
1/4 cup butter
1 cup chopped walnuts (optional)
Directions
Place chocolate chips, sweetened condensed milk, and butter or margarine in large microwaveable bowl. Zap in microwave on medium until chips are melted, about 3-5 minute, stirring once or twice during cooking. Stir in nuts, if desired.
Pour into well-greased 8×8-inch glass baking dish. Refrigerate until set.
Source : All Recipes