This is an easy chili recipe that you can throw in the slow cooker and forget about all day. Great topped with Cheddar cheese, crushed corn chips, and a dollop of sour cream.
"Please let us know what you think if you ever try it at home , and don't forget to share it with your friends and family and also on social networks, this means a lot to us"
These are some of the reviews from people who tried the Quick Slow Cooker Turkey Chili Recipe :
Renee :
I wish I could give this recipe more than 5 stars! Absolutely delicious! I took the advice of some others and only added 1 can of tomato soup, but also put in 2 cans of diced tomatoes. We like spicy food so I added some diced green chilies and a couple of chopped jalapeno peppers. My husband HATES ground turkey, but he had seconds of this chili. Thanks so much for a healthy recipe that tastes like its not! I could seriously eat this twice a week and not get tired of it… YUMMY!!!
Kate :
This was wonderful. I substituted 2 cans of diced tomatoes for the tomato soup. Perfect meal for a chili (haha)day.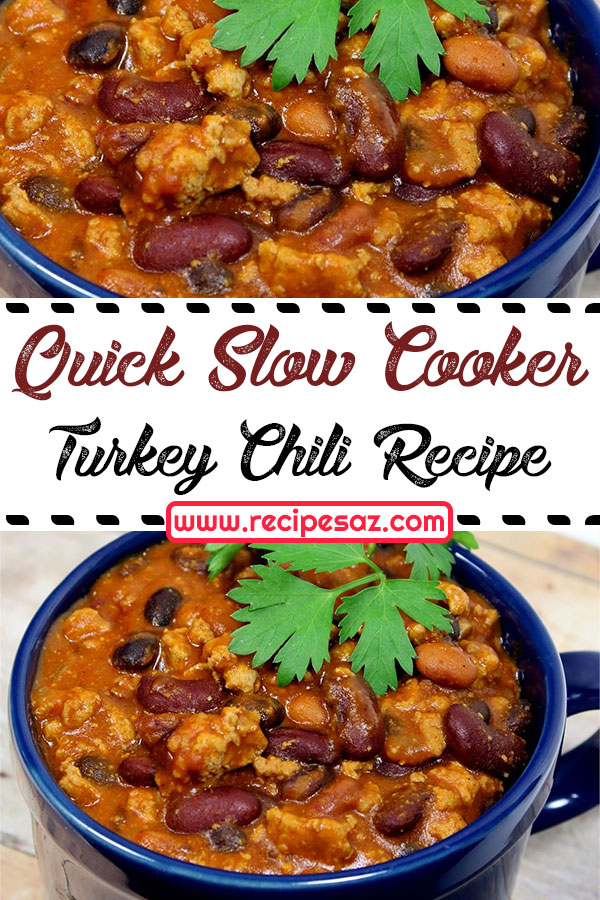 Ingredients
1 tablespoon vegetable oil
1 pound ground turkey
2 (10.75 ounce) cans low sodium tomato soup
2 (15 ounce) cans kidney beans, drained
1 (15 ounce) can black beans, drained
1/2 medium onion, chopped
2 tablespoons chili powder
1 teaspoon red pepper flakes
1/2 tablespoon garlic powder
1/2 tablespoon ground cumin
1 pinch ground black pepper
1 pinch ground allspice
salt to taste
Directions
Heat the oil in a skillet over medium heat. Place turkey in the skillet, and cook until evenly brown; drain.
Coat the inside of a slow cooker with cooking spray, and mix in turkey, tomato soup, kidney beans, black beans and onion. Season with chili powder, red pepper flakes, garlic powder, cumin, black pepper, allspice and salt.
Cover, and cook 8 hours on Low or 4 hours on High.
Source : All Recipes