Tiramisu-flavored cheesecake combines the flavors and richness of tiramisu and NY Cheesecake. Just before serving, grate some semisweet chocolate on the top.
"Please let us know what you think if you ever try it at home , and don't forget to share it with your friends and family and also on social networks, this means a lot to us"
These are some of the reviews from people who tried the Tiramisu Cheesecake Recipe :
Kimmy :
This cheesecake recipe is so good! Take your time and make sure the ladyfingers are crumbled very fine and use Kahlua Liqueur. It will turn out just like a gourmet Italian desert! It is the best cheesecake I've made yet and I am a lover of cheesecake!
Cindy :
wonderful cake. i kept the kids away because of the kahlua, but it went over big with the relatives!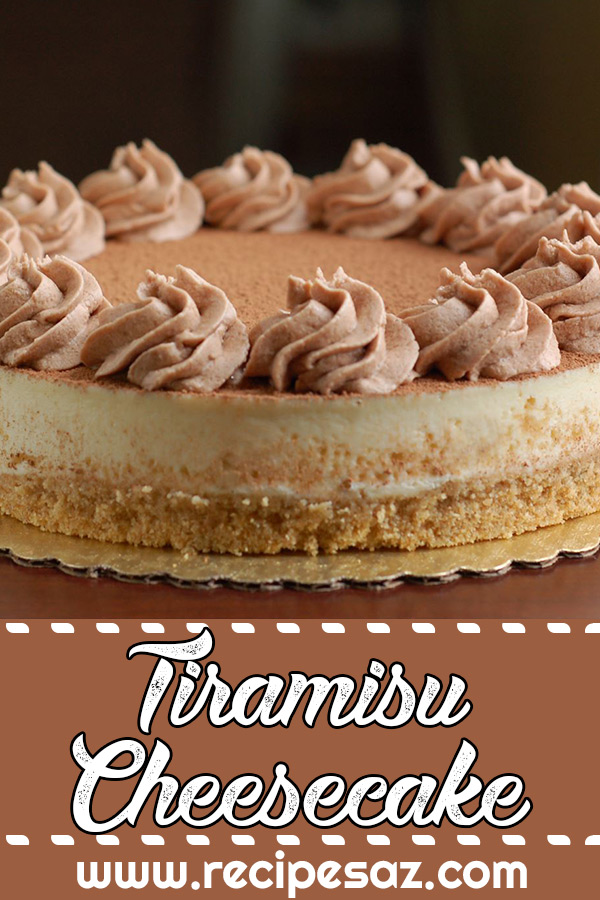 Ingredients
1 (12 ounce) package ladyfingers
1/4 cup butter, melted
1/4 cup coffee-flavored liqueur, divided
3 (8 ounce) packages cream cheese
1 (8 ounce) container mascarpone cheese
1 cup white sugar
2 eggs
1/4 cup all-purpose flour
1 (1 ounce) square semisweet chocolate
Directions
Preheat oven to 350 degrees F (175 degrees C). Place a pan of water on the bottom of the oven.
Crush the package of ladyfingers to fine crumbs. Mix the melted butter into the crumbs. Moisten with 2 tablespoons of the coffee liqueur. Press into an 8-inch springform pan.
In a large bowl, mix cream cheese, mascarpone, and sugar until very smooth. Add 2 tablespoons coffee liqueur, and mix. Add the eggs and the flour; mix slowly just until smooth. Pour batter over crust in the springform pan.
Place pan on middle rack of oven. Bake until just set, 40 to 45 minutes. Open oven door, and turn off the heat. Leave cake to cool in oven for 20 minutes. Remove from oven, and let it finish cooling, about 30 minutes. Refrigerate for at least 3 hours, or overnight.
Grate semisweet chocolate over the top right before serving.
Source : All Recipes