Great tasting glazed Bundt cake with Irish cream baked in. Excellent for any time or any occasion.
"Please let us know what you think if you ever try it at home , and don't forget to share it with your friends and family and also on social networks, this means a lot to us"
These are some of the reviews from people who tried the Irish Cream Bundt Cake Recipe :
Christine :
This cake was a snap to make and tasted heavenly (especially since I loooove Bailey's Irish Cream). I baked it first for my family and then for my co-workers and the votes were unanimous: delicious!
Kathie :
Delicious! This cake was a hit at the St. Patrick's Day tea I attended. Everyone abandoned their diets to have TWO slices!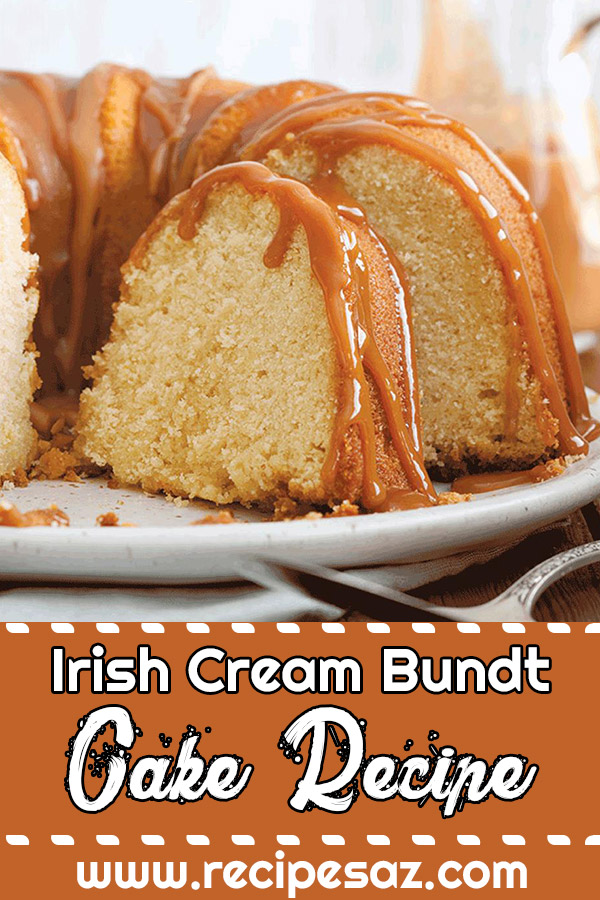 Ingredients
1 cup chopped pecans
1 (18.25 ounce) package yellow cake mix
1 (3.4 ounce) package instant vanilla pudding mix
4 eggs
1/4 cup water
1/2 cup vegetable oil
3/4 cup Irish cream liqueur
1/2 cup butter
1/4 cup water
1 cup white sugar
1/4 cup Irish cream liqueur
Directions
Preheat oven to 325 degrees F (165 degrees C). Grease and flour a 10 inch Bundt pan. Sprinkle chopped nuts evenly over bottom of pan.
In a large bowl, combine cake mix and pudding mix. Mix in eggs, 1/4 cup water, 1/2 cup oil and 3/4 cup Irish cream liqueur. Beat for 5 minutes at high speed. Pour batter over nuts in pan.
Bake in the preheated oven for 60 minutes, or until a toothpick inserted into the cake comes out clean. Cool for 10 minutes in the pan, then invert onto the serving dish. Prick top and sides of cake. Spoon glaze over top and brush onto sides of cake. Allow to absorb glaze repeat until all glaze is used up.
To make the glaze: In a saucepan, combine butter, 1/4 cup water and 1 cup sugar. Bring to a boil and continue boiling for 5 minutes, stirring constantly. Remove from heat and stir in 1/4 cup Irish cream.
Source : All Recipes