I had this at a party and couldn't get it off my mind. It's a fruity Asian chicken salad that even my family's picky eaters enjoy. I bake my own chicken for more flavor, which adds to the prep time, but pre-cooked or canned chicken will also work just fine.
Ingredients
1 teaspoon finely chopped, peeled fresh ginger
1/3 cup rice vinegar
1/4 cup orange juice
1/4 cup vegetable oil
1 teaspoon toasted sesame oil
1 (1 ounce) package dry onion soup mix
2 teaspoons white sugar
1 clove garlic, pressed
1 (8 ounce) package bow tie (farfalle) pasta

1/2 cucumber – scored, halved lengthwise, seeded, and sliced

1/2 cup diced red bell pepper

1/2 cup coarsely chopped red onion

2 diced Roma tomatoes

1 carrot, shredded

1 (6 ounce) bag fresh spinach

1 (11 ounce) can mandarin orange segments, drained

2 cups diced cooked chicken

1/2 cup sliced almonds, toasted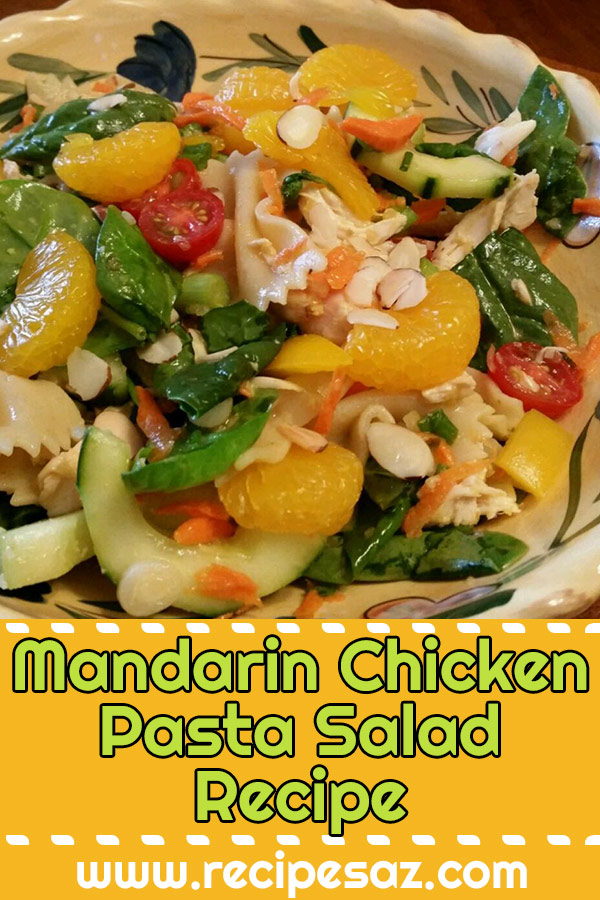 Directions
To make the dressing, whisk together the ginger root, rice vinegar, orange juice, vegetable oil, sesame oil, soup mix, sugar, and garlic until well blended. Cover, and refrigerate until needed.
Bring a large pot of lightly salted water to a boil. Add the bowtie pasta and cook for 8 to 10 minutes or until al dente; drain, and rinse under cold water. Place pasta in a large bowl.
To make the salad, toss the cucumber, bell pepper, onion, tomatoes, carrot, spinach, mandarin oranges, chicken, and almonds with the pasta. Pour the dressing over the salad mixture, and toss again to coat evenly. Serve immediately.