Sit on the front porch in your rocking chair on a sultry afternoon and sip on one or two of these. The proper way to serve a mint julep is in a frozen silver goblet, but you can use glasses instead–just use the most elegant ones you have! You can make the syrup ahead of time and store it in the refrigerator for whenever the julep mood strikes you.
"Please let us know what you think if you ever try it at home , and don't forget to share it with your friends and family and also on social networks, this means a lot to us"
These are some of the reviews from people who tried this Mint Juleps Recipe :
Jessi :
Aaaaah! Perfect! I've made this recipe and I've also made Basil Juleps which were a HUGE hit w/ our mint julep crowd. I just substituted fresh basil (1 cup) for mint and followed the recipe. Yum! Perfect to cool off on a hot day down by the "rivah"!
Michelle :
PERRRRRRRFECT. It's become a favorite among my friends and I and it's quite easy to make. Thanks for the recipe!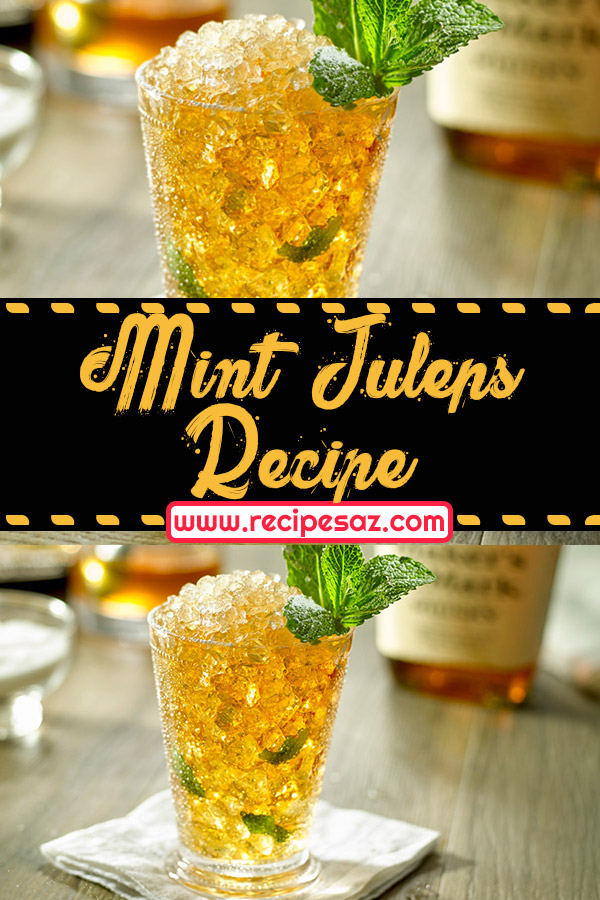 Ingredients
2 cups water
2 cups white sugar
1/2 cup roughly chopped fresh mint leaves
32 fluid ounces Kentucky bourbon
8 sprigs fresh mint leaves for garnish
Directions
Combine water, sugar and chopped mint leaves in a small saucepan. Bring to a boil over high heat until the sugar is completely dissolved. Allow syrup to cool, approximately 1 hour. Pour syrup through a strainer to remove mint leaves
Fill eight cups or frozen goblets with crushed ice and pour 4 ounces of bourbon and 1/4 cup mint syrup in each. (Proportions can be adjusted depending on each person's sweet tooth). Top each cup with a mint sprig and a straw. Trim straws to just barely protrude from the top of the cups. Serve juleps on a silver platter.
Source : All recipes