If you like pumpkin pie and chocolate, you'll love these cookies. I think they taste best when they are cold from the refrigerator.
"Please let us know what you think if you ever try it at home , and don't forget to share it with your friends and family and also on social networks, this means a lot to us"
These are some of the reviews from people who tried The Pumpkin Chocolate Chip Cookies Recipe :
Norah :
This recipe is just like the one we used in the bakery, we also put orange butter cream icing on top, wonderful!!
Amanda :
This is a great recipe, each time I make it everyone wants more cookies and they want to know my secret. I have found that people have to like pumpkin to like these cookies, and I added a little more spices than the recipe indicated.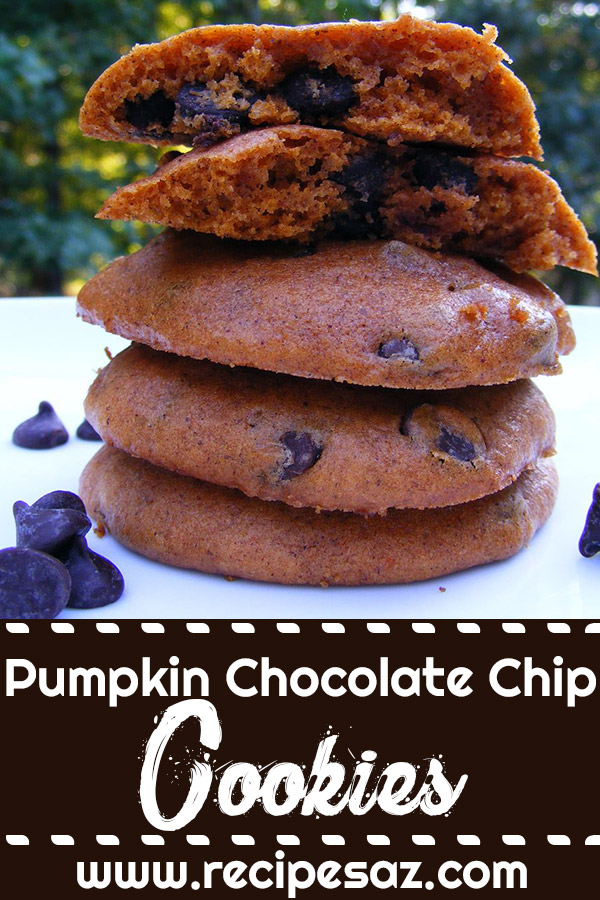 Ingredients
1 cup canned pumpkin
1 cup white sugar
1/2 cup vegetable oil
1 egg
2 cups all-purpose flour
2 teaspoons baking powder
2 teaspoons ground cinnamon
1/2 teaspoon salt
1 teaspoon baking soda
1 teaspoon milk
1 tablespoon vanilla extract
2 cups semisweet chocolate chips
1/2 cup chopped walnuts (optional)
Directions
Combine pumpkin, sugar, vegetable oil, and egg. In a separate bowl, stir together flour, baking powder, ground cinnamon, and salt. Dissolve the baking soda with the milk and stir in. Add flour mixture to pumpkin mixture and mix well.
Add vanilla, chocolate chips and nuts.
Drop by spoonful on greased cookie sheet and bake at 350 degrees F (175 degrees C) for approximately 10 minutes or until lightly brown and firm.
Source : All Recipes