You'll need a large, heavy-duty roasting pan (or a couple of smaller ones) and a very hot oven for this delicious dish. The long oven time makes everything beautifully caramelized and the chicken fork tender.
"Please let us know what you think if you ever try it at home , and don't forget to share it with your friends and family and also on social networks, this means a lot to us"
These are some of the reviews from people who tried the recipe :
Laura :
Followed the recipe exactly except used 5 sausages instead of 4 because that's how many were in the package. Delicious and everyone loved it. Cooking time of 1 hour was spot on except that I lowered the temp by 25 degrees during the last 15 minutes. It was cooked just right. Thank you
Betty :
Delicious. Very juicy and tasty chicken, I used Virginia hotlinks and omitted the potatoes, used red, yellow and orange bell peppers. Will make again !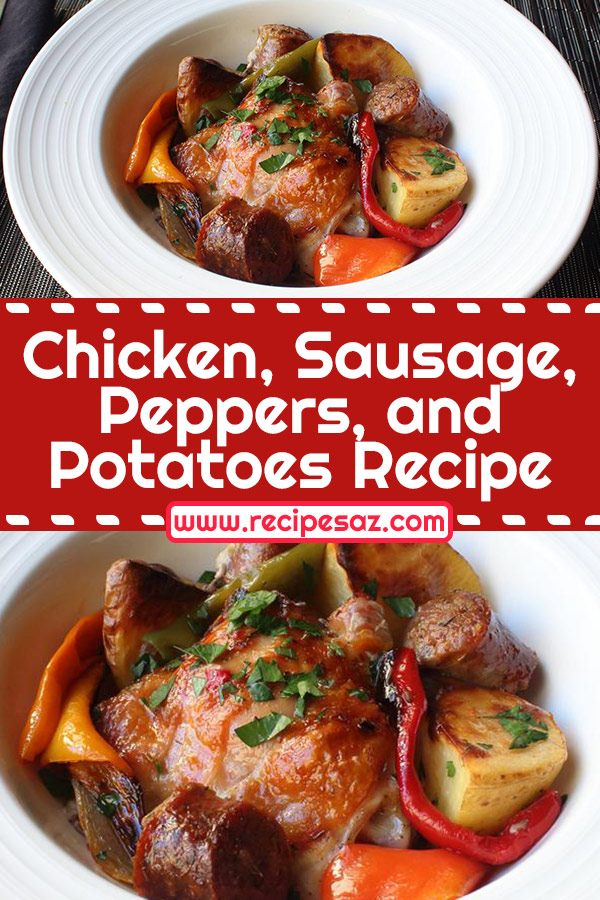 Ingredients
4 large links hot Italian sausage
2 tablespoons olive oil, divided
6 bone-in, skin on chicken thighs
1/2 pound assorted sweet peppers, seeded
1 small red onion, sliced
1/2 yellow onion, sliced
4 large Yukon Gold potatoes, quartered
2 teaspoons dried Italian herbs
2 teaspoons kosher salt, plus more as needed
Freshly ground black pepper to taste
Chopped fresh Italian parsley (optional)
Directions
Preheat oven to 450 degrees F (230 degrees C).
Heat olive oil in a skillet over medium heat. Cook sausage links until browned and oil begins to render, about 3 minutes per side. While sausages are cooking, pierce them lightly here and there with the tip of a sharp knife so some fats and juices are released. Remove from heat and let cool slightly.
When sausages are cool enough to handle, cut them into serving pieces, about 2-inch slices. Transfer back to pan along with any accumulated juices from the cutting board.
Cut two slashes down to the bone on the skin side of each chicken thigh.
Depending on the size of the peppers, halve or quarter them and place in a large mixing bowl. Add the sliced red and yellow onions and potato chunks. Add chicken thighs and sausage pieces with pan juices.
Season with kosher salt, black pepper, and Italian herbs. Drizzle with a tablespoon of olive oil.
Mix with your hands until all ingredients are coated in oil, 3 or 4 minutes. Transfer to large, heavy-duty roasting pan. Evenly space the chicken thighs skin side up. Position potatoes near the top.
Place in preheated oven until chicken is cooked through and everything is caramelized, about 1 hour. An instant-read thermometer inserted near the bone should read 165 degrees F (74 degrees C). Sprinkle with chopped fresh Italian parsley, if desired.
Source : All Recipes